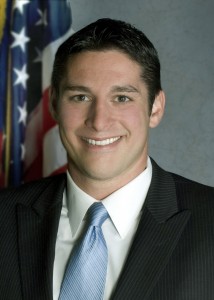 State Rep. Brandon Neuman gained the support of some influential Democrats from his Erie County stomping grounds in the race for Pennsylvania's next lieutenant governor.
PA lawmakers Reps. Ryan Bizzarro of Millcreek, Patrick Harkins of Erie, and Flo Fabrizio, also of Erie, have pledged their support to their colleague Neuman.
"I think Brandon has what it takes for the job," Bizzarro said. "He's been effective at getting the job done for Pennsylvanians, despite having an overwhelming Republican majority in both chambers." Bizzarro also counts Neuman among his close friends, believing he's the best person to help propel the Commonwealth forward as lieutenant governor.
Several other Erie County Dems have thrown their support behind Neuman, including Erie City Councilman Bob Merski, Erie County Councilmen Jay Breneman, Phil Fatica and Andre Horton, and former Erie County Councilwoman Joy Greco, who is also an elected Millcreek Township auditor.
"I think our representation from the western half of Pennsylvania needs to be taken into account when we elect a governor and lieutenant governor," Greco said. She believes Neuman would be a welcome addition to the Democratic ticket.
Neuman is a lawyer who's currently in his second term in the House. He's one of five Democrats hoping to get the party nomination on the May 20 primary. He faces State Senator Mike Stack, Bradford County Commissioner Mark Smith, Congressman Mark Critz and Harrisburg City Councilman Brad Koplinski.
Current Lieutenant Governor Jim Cawley is running unopposed for the Republican nod.