Lt. Gov. Stack Meets With Israeli Delegation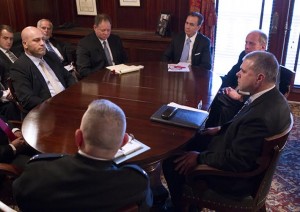 The state of Pennsylvania is broadening its horizons.
Lt. Gov. Mike Stack and other state officials met with Directors of the Israeli Defense Corporation at the State Capitol on Thursday.
The attending Israeli delegation were leaders of SIBAT, a division within the Israeli Ministry of Defense. Among the Pennsylvania officials present were Richard D. Finn, Junior Director of the Pennsylvania Emergency Management Agency; Lt. Col. George Bivens of the Pennsylvania State Police; and Col. Marc Ferraro, Acting Deputy Adjutant General of the Pennsylvania National Guard.
SIBAT is an international defense cooperation directorate within the IMOD that holds a close relationship with the country's defense industry. The organization will be "responsible for identifying opportunities for potential business-to-business areas of mutual interest and industrial collaboration between Israel and Pennsylvania," stated Ori Bar Chaim, the director of SIBAT's Europe & North America department.
"We are happy to be in Pennsylvania today to establish a relationship and a dialogue with the heads of state defense/security forces," Chaim said. "There is a great deal of opportunities in Pennsylvania and we look forward to seeing them come to fruition."
Thursday's meeting was the first of its kind and served to jumpstart Gov. Tom Wolf's intent to strengthen ties with Israel. Wolf's administration hopes to establish a memorandum of understanding between Pennsylvania and Israel, similar to one recently established between Ohio and Israel. The memorandum will be the state's gateway into an economic relationship with the country.
Stack warmly welcomed the Israeli delegation, saying that he "looks forward to continuing to build the relationship with Israel and explore the ways in which we can benefit and learn from one another."
The Israeli leaders were optimistic about the new partnership, as well.
"I look forward to seeing what the outcomes of this meeting will bring for both Israel and Pennsylvania," Yaron Sideman, Consul General of Israel to the Mid-Atlantic Region, said in a statement. "It has been proven that a robust business portfolio with Israel can strengthen local economies by providing jobs and increasing revenue. It is truly a win-win for both Israel and Pennsylvania to explore advancement opportunities in these sectors."