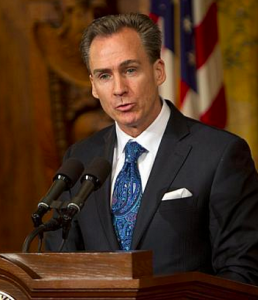 Senator Mike Stack (D-Philadelphia) came out on top in the race for lieutenant governor, with the most money raised and the most cash on hand of all the candidates.
His submitted campaign finance report covers the fundraising period from early January 2014 to March 31.
Stack raised a total of $379,050, and plus he brought forth $397,000 from 2013.
Contributions:
Stack's biggest donor is his mother, Felice Stack, a Philadelphia judge who contributed a $100,000 loan to her son's campaign.
His other major contributions come from Philadelphia unions with whom he has built relationships during his tenure in the State Senate. The AFSCME AFL-CIO Council 13 PAC gave $7,500, and Stack received $10,000 each from the Carpenters PAC of Philadelphia and the Vicinity and the Plumbers Union Local 690. The 58th Democratic Ward in Philly graced Stack with $16,000 (he's the ward leader), and ARC Consolidated Funding LLC of New Jersey donated $10,000.
Regarding individual donations, Stack had plenty to report on, especially from his colleagues in the Senate. Sen. Vincent Hughes (PA-7), who also endorsed Stack, gave $2,000. He picked up $5,000 each from fellow PA Senators Yudichak, Costa, Sabatina, and the recently-controversial Lisa Boscola.
Expenses
Stack's spent about $75,000 in the first quarter of the year.
A couple thousand each went to various consultants, including Mandate Media, Perry Consulting, Jones & Associates, Jeff Crawford, Marty Marks, and The WS Group.
He also gave $1,000 to PoliticsPA super-commenter and VoterWeb creator, David Diano as a consultant.
Stack has incurred around $103,000 in debts and currently has $776,184 cash on hand.
Also running for lieutenant governor are candidates former Congressman Mark Critz, Bradford County Commissioner Mark Smith, Harrisburg City Councilman Brad Koplinski and State Rep. Brendan Neuman.