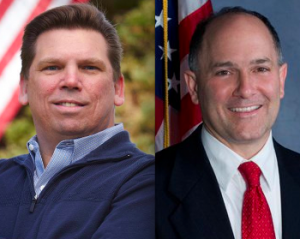 Once again, Lycoming College has released a poll of the 83rd state House district, and once again, incumbent Democrat Rick Mirabito has a healthy lead over GOP challenger Harry Rogers.
The three-term state Rep. takes 58.9 percent of the vote, while Rogers, a well-connected county employee who formerly chaired the Lycoming GOP, takes 30.6 percent. 10.5 percent of voters are undecided.
That's a 3 point swing in Mirabito's favor since a Lycoming poll taken during the week of Sept. 23, when he lead 55 percent to 30.
"The results for the most recent poll are very similar to the results we saw in September," according to Dr. Jonathan Williamson, chair of the Department of Political Science at Lycoming and director of the College's Center for the Study of Community and the Economy (CSCE), "The number of undecided voters appears to be down a few points and Mirabito's support is up a few points, but the change is small."
The survey of 363 likely voters was taken from Oct. 21 to 25 via live telephone interviews. The margin of error is plus or minus 5.1 percent. Respondents identified as 44.5 percent Republicans and 38 percent Democrats.
Registration in the district is 50 percent Republicans and 39 percent Democratic, according to Labels & Lists.
Mirabito occupies one of the most Republican seats in Pa. controlled by a Democrat, and he's perennially been one of the GOP's top targets – including this cycle.