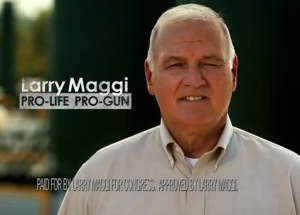 Larry Maggi, the Democrat running against Rep. Tim Murphy (R-Allegheny) is going on television Tuesday. His ad casts him as a centrist and blasts both Democrats and Republicans.
After a 15 second intro, in which Maggi recounts his progression from his service in the U.S. Marine from 1969-1971, to his work as a state trooper, to Washington County Sheriff, to County Commissioner, he takes aim at both parties.
"I'm Larry Maggi and in Washington County we're creating jobs by cutting waste, and leading the way in energy production," he says.
"Washington D.C.'s got it all wrong. Democrats want to kill natural gas jobs, Republicans just want more tax cuts for the wealthy."
He approved the message, "because Washington, D.C. could learn a lot from Washington County."
Maggi's campaign says the ad will be on broadcast stations in the Pittsburgh market starting Tuesday – making Maggi the first challenger to Murphy on television in September, let alone broadcast.
The spot was produced by the Democratic media consulting firm Murphy Vogel Askew Riley.
Murphy is a five-term incumbent who has sailed easily over opponents for the past decade. A psychologist by trade, the Republican enjoys the support of much of southwest Pa.'s organized labor – denying Maggi the strong backing of an interest group that traditionally has been key to Democrats' success in the region.
Maggi is not listed by the Democratic Congressional Campaign Committee among its top tier "Red to Blue" candidates, but going on television now may help him make the cut – particularly because other Democratic potential pickups in Pa. fall in the expensive Philadelphia media market.
Murphy Campaign Manager Tyler Foote said voters won't but Maggi's independent messaging.
"Larry Maggi can run but he can't hide from his liberal record raising taxes and giving himself an automatic pay raise every year," Foote said. "Liberal Larry's misleading advertising won't change the fact that the voters of the 18th district do not want a rubber stamp in Congress for the Obama-Pelosi agenda of reckless stimulus spending, job crushing EPA regulations that threaten to shut down our coal and natural gas jobs, and budget-busting Obamacare."