Major Transit Bill Fails Twice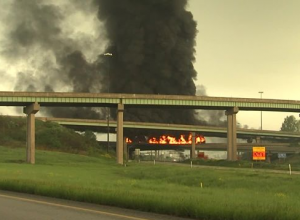 The comprehensive transportation funding bill hit a major bump in the road Monday night when it failed to pass an amendment that would have aided its passage.
The amendment from Rep. Nick Micozzie (R-Delaware), which would have made changes to the prevailing wage and raised vehicle and gas taxes, failed in the House tonight by four votes. The final tally was 98-103.
Republicans narrowly favored the bill, 59 to 51. Democrats were primarily opposed, 39 to 52. There was one voting exception due to absence.
This may delay the long awaited bill for another week, as several lawmakers said that if the Micozzie amendment went down, transit debate would be put on hold yet again. Knowing the gravity of this amendment in the transit debate, the House called for a second vote on reconsideration and it failed again, 89-112.
Republicans fled the amendment on reconsideration, with only 49 votes in favor and 61 opposed. Democrats didn't change much, with 40 ayes and 51 nays.
The vote is black eye for the Governor. Transportation funding has been a major priority of Tom Corbett's administration. Earlier Monday, Corbett and former Governors Ed Rendell and Tom Ridge rallied for the bill in the Capitol rotunda.
House Majority Leader Mike Turzai (R-Allegheny) proposed his own amendment for "critical needs," offering $49 million for highways and bridges, $35 million for mass transit and $15 million for multimodal. His amendment totals just under $1 billion in transportation funding, a drastic difference from the original $2.5 billion in funding. Debate showed that House members found this funding proposal to be insufficient, and Turzai withdrew his amendment.
Representative Michael Hanna (D-Clinton) proposed an amendment more similar to the Micozzie Amendment, but without a change to prevailing wage. Despite some calls for a vote on this amendment, it was blocked from consideration by Republicans.
Micozzie himself spoke against the Turzai proposal and in favor of allowing a vote on the Hanna amendment.
The House adjourned just before 11pm, without vote on the Hanna amendment. They have an 11pm curfew, unless there is a rules change.
While the bill clearly had wide support, there were several points of contention. Members on right end of the spectrum decried one of the largest tax increases in state history, whereas their colleagues on the left rejected changes to the prevailing wage law.
Prevailing wage law now requires publicly funded projects over $25,000 must be completed union labor pay rates, which are more costly. The Micozzie Amendment proposed that the threshold be moved to $100,000, a change that was unpopular with organized labor.
After months of debate, hours of which happened Monday, transportation funding is again delayed, awaiting the critical mass of support it requires to pass the House.