Two ads from Paul Mango's Gubernatorial campaign are caught up in issues.  One used stock video from Washington in an ad, and caught flak for his joke about raising five daughters in the other.
In his ad "Advice" Mango appears in front of a group of construction workers while talking to the camera.  The construction workers video though is stock video from Bainbridge Island, WA according to Getty Images.  Campaigns often use stock images and videos in their ads to keep costs down and help speed up the turnaround time for ads.  
"This is just like the media to miss the message and nit pick the ads," Mango campaign spokesman Matt Beynon told PoliticsPA.  
On Mango's Facebook Page, a user commented on a public post that his "TV ad in which you state that you are prepared for the bickering in congress because you raised five daughters is a sexist comment and thus offensive to me and I am sure to other women who hear you comment."  The comment is talking about Mango's ad "Interview" in which he holds a "press conference" where he answers questions about why he is qualified for the office.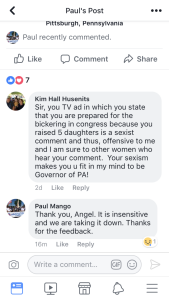 Mango thanked the commenters who agreed with the comment and said "it is insensitive and we are taking it down."  The comment has since been deleted, while the ad remains up on Facebook.  
"Paul Mango is prepared to take on both to bring our jobs and our children back to Pennsylvania. Raising five children together with his wife Dawn was just a humorous way of making the point that its time Harrisburg politicians grow up and start acting like leaders," Beynon said.  
"The point of the ads is not in question.  Pennsylvania is suffering from a stagnant economy and a lack of leadership from the politicians in Harrisburg."  
While they are minor issues and does not nullify the purpose of the ads, the move by Mango is likely growing pains of a first time candidate for office.