Northwest Philadelphia carried Dwight Evans to a victory in the divided PA-2 Democratic primary.
Evans took down incumbent Chaka Fattah 73,787 to 60,355 (42.14% to 34.47%) on Tuesday with the help of the Northwest Philly wards.
In addition to the 10th and 61st wards, which are part of Evans' legislative district, the 17th, 21st, 22nd and 50th wards were also significant contributors to his vote totals.
Meanwhile, Fattah (green) and Evans (blue) split Central Philadelphia.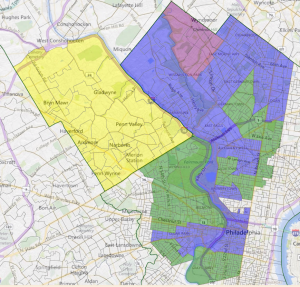 Even Brian Gordon (yellow) and Dan Muroff (purple), who got 23,367 (13.35%) and 17,571 (10.04%) votes respectively, performed well in their home areas. As you can see above, Lower Merion Township Commissioner Brian Gordon dominated in Montgomery County while 9th ward leader Dan Muroff won his territory.
Congressman Fattah has served since 1995 but became endangered when he was charged with 29 indictments last July.
Evans will go against Republican nominee James Jones in November, but the D+38 district is the third-most Democratic in the nation, so it is highly unlikely that Evans will not be victorious.