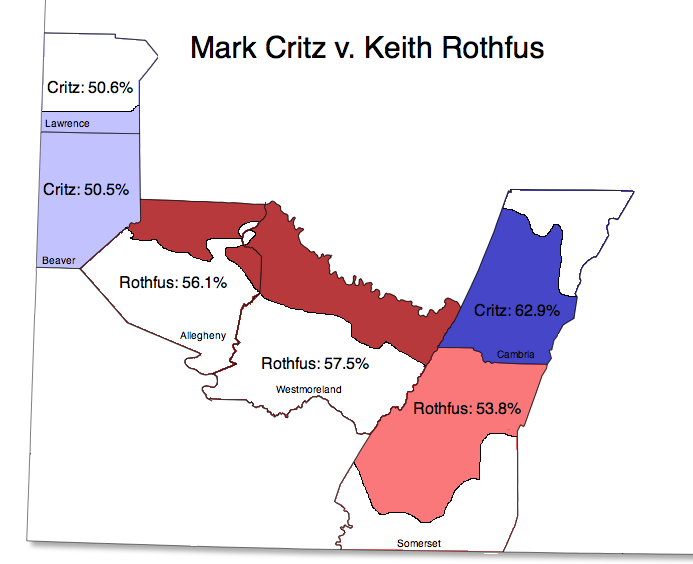 Much of the 12th district congressional race focused on one issue: Barack Obama. Republican challenger Keith Rothfus and outside groups sought to paint Rep. Mark Critz as an Obama stooge, while Critz worked to put distance between himself and the President. He didn't get far enough.
Rep. Mark Critz lost his re-election bid on Tuesday despite running several points higher than President Obama and Senator Casey there.
Critz lost by 3.6 points to GOP challenger Keith Rothfus, 51.8 percent to 48.2 percent. As the map above shows, he performed well in his Cambria County/Johnstown base, but won Beaver and Lawrence counties by too-narrow margins. He lost Allegheny and Westmoreland Counties by too great a margin.
President Barack Obama did much worse. He lost to Mitt Romney by 17 points, 58.5 percent to 41.5 percent of votes cast for one of the two major party candidates.
Even at the height of his popularity in 2008, Obama lost the new configuration of the 12th district by over 9 points, 54.1 percent to 44.7 percent. The President did far worse in western Pa. this year in general.
Senator Casey, too, saw his re-election numbers drop in the 12th. He bested former Sen. Rick Santorum by nearly 13 points in 2006, 56.4 percent to 43.6 percent.
This cycle, he lost the 12th district to GOP challenger Tom Smith. Smith bested Casey by nearly 8 points, 53.8 percent to 46.1 percent of votes cast for one of the two major party candidates. That's a swing of 20 points.
Note: these numbers are based on county precinct totals.