Tuesday's Democratic primary election for state House District 36, located in Pittsburgh's southern neighborhoods and its South Hills suburbs, could hardly feature two more different Democrats. The race between 10-term Rep. Harry Readshaw, 72, and freshman Rep. Erin Molchany, 36, is the latest battle in the war between blue collar and progressive Democrats for dominance of Pittsburgh politics.
Rep. Readshaw, a labor-oriented, pro-life, pro-gun Democrat, represents the region's traditional brand of politics. Rep. Molchany, a one-term progressive who formerly worked for Planned Parenthood, represents Pittsburgh's new brand of politics.
A look back at recent primary election results in HD36 shows good news for Readshaw. For the most part, progressive candidates have fared poorly in the South Pittsburgh-based district.
But recent history sends positive signals to Molchany, too. Progressive Joe Sestak easily won in 2010. And female candidates won the district in 2008 and 2012.
The Maps
The district comprises the boroughs of Baldwin and Mt. Oliver and portions of Brentwood Township. It contains all of Pittsburgh's 29nd and 32nd wards as well as parts of the 16th, 17th, 18th, and 19th wards.
As the newest member of the Allegheny County delegation, Molchany drew the short straw during redistricting. 71.8% of registered Democrats in the new 36th district reside in Readshaw's old seat, versus just 20.4% come from Molchany's – according to Labels & Lists.
In the map below of HD36, Rep. Readshaw currently represents precincts colored blue and Rep. Molchany currently represents precincts colored purple. Neither represents precincts colored green.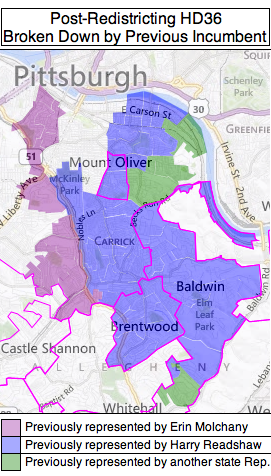 Looking back at recent elections, there is no primary campaign that compares perfectly to the current battle in HD36. But several races have elements in common with the Molchany-Readshaw contest.
2008 Presidential Primary
Hillary Clinton dominated the 2008 Presidential primary in HD36. She took 68% of the vote in HD36 to just 32% for Barack Obama who ran as the progressive in the race. That was better than Clinton's 55% in Allegheny County as a whole as well as her 55% of the Democratic vote statewide.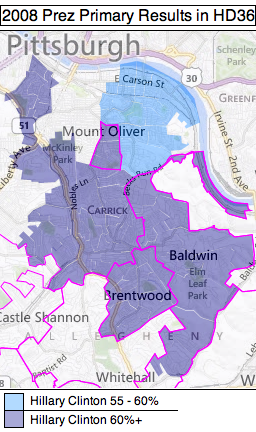 2010 U.S. Senate Primary
In 2010, Congressman Joe Sestak ran to the left of Sen. Arlen Specter, who had switched parties from Republican the year prior. Sestak took 56% of the vote in HD36, three points better than his performance statewide. Sestak had the more progressive policy positions of the two and also a resume that appealed to blue collar western Pa. voters.
2011 County Executive Primary
Rich Fitzgerald won 61% of the vote in HD36 in his showdown with Mark Patrick Flaherty, 5 points stronger than his performance countywide. The primary was not clear cut, ideologically speaking. Fitzgerald has endorsed Molchany.
2012 Attorney General Primary
Kathleen Kane and Patrick Murphy shared most positions in common in 2012, when Kane narrowly defeated Murphy in HD36 with 51% of the vote. That was two points behind her statewide total.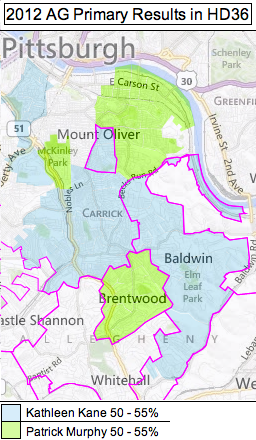 2013 Pittsburgh Mayoral Primary
2013 offers perhaps perhaps the best analogy to this year's race. Councilman BIll Peduto ran as a progressive against blue dog and former Auditor General Jack Wagner for Pittsburgh Mayor. Most of the interest groups and elected officials who endorsed in that race have split along the same fault lines in the 2014 Molchany-v-Readshaw campaign. Peduto himself appeared in a recent Molchany campaign television ad.
The comparison is limited by the fact that only 61% of HD36 Democratic primary voters are Pittsburgh residents. Of the precincts that the city and HD36 share, Wagner won with a solid 59%. (Peduto won 57% citywide).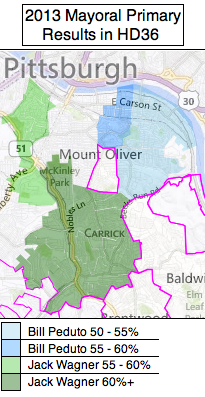 What to watch on Tuesday
Readshaw began the race as a clear favorite thanks to his familiarity to voters and redistricting geography.
The Southside Slopes, Arlington, Mt Oliver, and St. Clair will be the key areas to watch because these neighborhoods gave Mayor Peduto and President Obama's strongest numbers in HD36. Disproportionately high turnout there will bode well for Molchany.