This is part two of a three part series previewing Pennsylvania's 2020 State House elections.
In part one, I broke down Governor Wolf and Senator Casey's 2018 re-election vote totals by PA's 203 State House districts (HDs) and created maps to explore the current state of the Commonwealth's political geography.
While both men won a majority of HDs, not every seat they carried is trending Democratic. Far from it as large portions of the state, including the ancestrally Democratic Wyoming and Monongahela Valleys are continuing to trend Republican. Those working-class seats used to be strongholds of Democratic support. In 2020 however, they may be the party's biggest liability.
Fourteen House Democrats, or 15% of the caucus, represent HDs that voted for a Republican for Senate, Governor, or both. Several others occupy seats that only narrowly favored top ballot Democrats. Of these groups, some members are clearly more at risk than others. Today we'll look at the top five seats I think are most at risk of flipping from the Democrats to the Republicans.
First, I want to pull the curtain back and briefly explain my methodology. The 2020 elections are over a year away and a lot can happen between then and now, so you should approach all long-term forecasts, including this one, with a healthy dose of skepticism. The challenges forecasters face include accounting for known unknowns; like the identity of the Democratic presidential nominee or the state of the economy and unknown unknowns, events that could upend the calculus altogether: President Trump giving up Twitter for example. Moreover there are additional variables that can be factored in like incumbency, fundraising totals, and a district's socioeconomic status. While I considered many of the elements above, the two metrics I relied on most heavily are lean and trend.
Lean and trend both describe the relationship of a part to the whole. In this instance we're describing how a district's partisanship compares to the partisanship of the state. If the district votes more Republican than the state as a whole, it leans to the right or vice versa. Trend is simply the lean over time and is generated by comparing the leans from a series of sequential statewide elections.
For example, last fall Wolf carried HD-178 in Bucks County by 11% (55.47-44.53%), however his statewide margin was 17% (58.67-41.33%). This means HD-178 voted about 7.4% more Republican than the state as a whole.

As you can see from the chart, HD-178 has voted consistently to the right of the state. In 2012 it voted about 18% to the right and in 2016 just 3%, however between 2012 and 2018 the difference between the statewide and district margins shrank by 10%, indicating the district is voting more Democratic. This shift left is reflected in the topline results. In 2014 Wolf lost the district by over 7%, but in 2018 he won it by 10%.
Lean and trend are the political equivalent of putting your finger to the wind. Without knowing any additional information about a district, we can use these metrics to make basic predictions about whether a candidate will enter the cycle with the winds at their back or heading straight for a Cat-5 hurricane.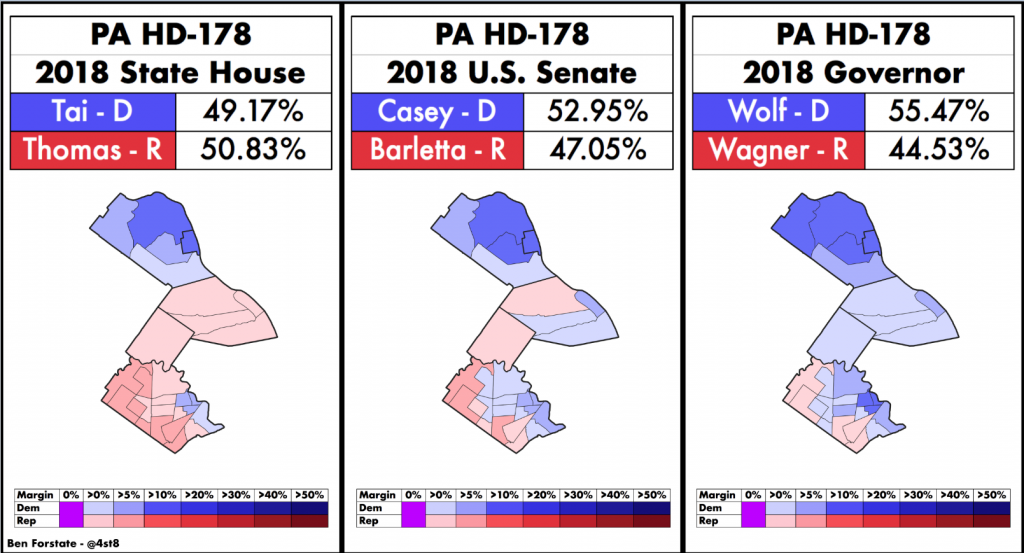 In HD-178, for instance, while cycle over cycle trends favor Democrats, we're not at the point where a Democratic candidate would enter as a clear favorite. In fact, while Democrat Helen Tai won a special election in May of Last year (50.40-49.60%), in the general election Republican Wendi Thomas flipped the district back to the GOP (50.83-49.17%). Last fall, no HD that voted to the right of the state flipped from Democratic to Republican control. That's the power of lean and trend.
All right, enough with nuts and bolts, let's get to the actual rankings.
Runners up: HD-50 Snyder (D-Greene), HD-118 Carroll (D-Lackawanna), HD-07 Longietti (D-Mercer).
5. HD-09,  Chris Sainato (D-Lawrence)
Chris Sainato has represented this New Castle based seat since 1995 and is one of the most conservative Democrats in the House. E.G. The NRA endorsed him last cycle. Sainato also enters 2020 with a six-figure war chest; potentially enough to dissuade serious GOP challengers. However, statewide Democrats have struggled in Lawrence County over the past few cycles and 2018 results suggest those trends will continue. Sainato may be able to weather 2020, but HD-09 will likely flip as soon as he retires.
4. HD-119, Gerald Mullery (D-Luzerne)
President Trump owes his surprise victory in the Keystone State to counties like Luzerne. After favoring every Democratic Presidential nominee from 1992 to 2012, Donald Trump defeated Hillary Clinton in the county by 20% (60-40%). Moreover in 2018 both Wolf and Casey received a lower percentage of Luzerne's vote than in their previous elections. Like Sainato, Mullery has frequently bucked the party line and supported GOP led initiatives like implementing work requirements for state benefit recipients. We'll see if these stances are enough to distinguish him from the national party.
3. HD-123, Neal Goodman (D-Schuylkill)

HD-123 includes Pottsville and the ancestrally Democratic anthracite coal mining towns of Schuylkill County. This is the area, or rather "The Region", John O'Hara immortalized in novels and short stories like Appointment in Samarra and Gibbsville, PA.  In 2020 Goodman's biggest problem may be the D next to his name on the ballot. Schuylkill like neighboring Luzerne has trended sharply against Democrats post 2016 and if the recent election is any indication, the party still has further to fall.
2. HD-55, Joseph Petrarca (D-Westmoreland)

Of the historically Democratic counties bordering Allegheny County in SWPA, Westmoreland was the first to break ranks and begin voting Republican up and down ballot. Now Petrarca is the last Democratic state representative in the county and one of just three left in Pittsburgh's collar counties. Neither Wolf nor Casey carried HD-55 last year, but unlike the rest of the seats on this list, HD-55 actually swung slightly towards the Democrats. I'm not prepared to call a 0.06% swing a sign that Westmoreland is done trending right, but it might be something to keep an eye on.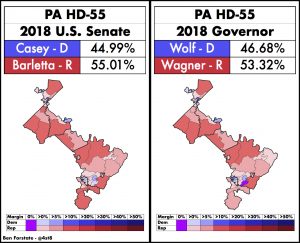 1.HD-72, Frank Burns (D-Cambria)
The last decade has not been kind to Cambria Democrats. In 2008 the county voted for President Obama, re-elected Democratic congressman Jack Murtha and Democratic State Senator John Wozniak, and sent four Democratic State Representatives to Harrisburg. After the dust settled last November, Frank Burns is the last Democrat standing. Burns' seat is now the most Republican leaning district in the State House currently represented by a Democrat and he will certainly be a top target for the PA GOP next fall.   
Can these candidates withstand the political headwinds? That's the big question Democrats will have to answer as they put together their 2020 strategy. Remember the PA Democrats need just nine seats to flip the State House, but unless they defend these vulnerable incumbents the house will remain under GOP control. I'll be back next week for part three, where we'll wrap up with a look at Republican seats at risk.