🏀 Best Day of the Year? It's the "real" opening round of the NCAA Division I Basketball Championship.
PA Weather
New Stanton | Mostly Sunny, 57
Carlisle | Mostly Sunny, 61
Lehighton | Decreasing Clouds, 55
PA Sports
76ers (46-22) | d. Cleveland 118-109 | FRI vs. Charlotte
Penguins (34-23-10) | THU vs. NY Rangers
Flyers (24-32-11) | FRI vs. Buffalo
Penn State MBB | THU vs. Texas A&M
Pitt MBB | FRI vs. Iowa State
Villanova WBB | Sat vs. Cleveland State
What We're Hearing
"You need to hire people that are smarter than you."
Sign Me Up
For a free subscription to the PoliticsPA Playbook and get it emailed to you every weekday morning. The best morning read in the Commonwealth.
Top Story
1. PA House GOP Leader Warns Gov. Shapiro's Budget Proposal Will Lead To Massive Deficit
"Pennsylvania would have a massive budget deficit within three years under Gov. Josh Shapiro's proposed 2023-24 budget, the ranking Republican member of the state House Appropriations Committee said Wednesday.
Rep. Seth Grove of York County outlined House Republicans' priorities in upcoming budget negotiations and hearings in a news conference where he said Shapiro's budget plan obscures growth in spending – and uses an overly optimistic estimate for expenditures in coming years." (Pennsylvania Capital-Star)
Related
PA's Budget Outlook May Make Future Tax Increases Unavoidable, House GOP Leader Says. "Pennsylvania could be heading down a path where a massive tax increase will be unavoidable based on Gov. Josh Shapiro's proposed state budget, according to House Republican Appropriations Committee Chairman Seth Grove." (PennLive)
PA Democrat Proposes Salary Transparency Requirements. "Wanting to increase workplace transparency by combating salary disparities, a Senate Democrat has proposed mandatory pay disclosure requirements for jobs in Pennsylvania." (Capital-Star)
Shapiro Proposes More Funds For PA Schools, District Leaders Hoping For Long Term Solution. "Gov. Josh Shapiro championed $1 billion in new spending on public education in his first proposed budget as the commonwealth's chief executive, and the projected estimates are welcomed by school district administrators eager for any additional funding." (CNHI News)
Right-to-Work Is Still Right. "A decade ago, Michigan outlawed forced unionism. The Democrats who last year won control of that state's legislature are working on restoring the concept so their constituents can enjoy its putative rewards." (Broad + Liberty)
Statewide
2. Casey Has Faith Fetterman Can Keep Serving PA
"U.S. Sen. Bob Casey didn't hesitate Tuesday when he was asked if he was confident that his counterpart, Sen. John Fetterman, can continue to serve Pennsylvanians while in the hospital.
'[There is] no question that he can do the job, and he will,' Casey said." (WESA)
Related
For Senators' Health Updates, Full Transparency Is Case By Case. "The Senate has had a rush of health-related absences this year, most recently with Minority Leader McConnell." (Washington Post)
DeSantis, Conway Highlight PA Leadership Conference. "The annual Pennsylvania Leadership Conference will take place March 30 through April 1 at the Penn Harris Hotel in Camp Hill." (PoliticsPA)
Signs Point To a McCormick Senate Bid, But a Primary Fight With Mastriano Might Be Waiting. "With a new book out, speaking engagements and a major Republican political-action committee on his side, it seems David McCormick is poised to make another run at a Pennsylvania U.S. Senate seat in 2024." (PennLive)
Kathy Barnette Not Running For PA's U.S. Senate Seat. "Barnette, who finished third in the 2022 Republican primary, told POLITICO despite thinking about a second run, she is "not interested."" (ABC27)
Brian Fitzpatrick Q and A. "Bucks County Congressman Brian Fitzpatrick, R-1 of Middletown, took a few minutes from his annual Fitzpatrick St. Patrick's Day party and fundraiser at The Fuge in Warminster this month to answer a few questions on the economy, Planned Parenthood, Ukraine and college loan debt, among other items. " (PhillyBurbs.com)
Around The Commonwealth
3. Philly's Mayor: CEO of the City of Philadelphia
"Like a chief executive officer of a corporation, a mayor is the CEO of a city. And as Philly's about to elect its next one, it's a good idea to have a sense of what you're voting for.
They're the person that develops strategies to be implemented city-wide, delegates and appoints leadership positions to critical departments and manages the overall operations of a company — or in this case, Philadelphia." (Inquirer)
Related
Gym, Rhynhart Pick Up Philly Mayoral Endorsements; Ballot Positions Drawn. "Just another Wednesday in the Philadelphia mayoral race, as two Democratic candidates for the position to be vacated by Jim Kenney announced endorsements." (PoliticsPA)
Philly Mayoral Candidates Are Distancing Themselves From 'Defund' And Say Police Staffing Is A Key Priority. "All of the mayoral candidates have said that public safety is the No. 1 issue facing the city. None of them are in favor of reducing the $800 million police budget, and several have advocated for increases in funding to cover technology upgrades or recruitment programs." (Inquirer)
There Are Eight Candidates Running For Montgomery County Commissioner. "On the Democratic side, five candidates are running for two spots — the biggest primary field in recent memory. Three Republicans will be on the ballot." (Inquirer)
DA Wants Judge To Order PA County To Accept His Nominating Petitions For Reelection. "The two-term district attorney of Northumberland County is seeking a court order to get his name on the May primary ballot as a Republican candidate for reelection." (PennLive)
Westmoreland Candidates Face Lawsuits That Could Boot Them From Primary Ballot. "Several candidates for contested races in the May primary are facing challenges to be removed from the ballot because of perceived flaws in their nominating petitions." (Tribune-Review)
Judge To Decide Whether Ex-U.S. Rep. Marino Remains On Ballot For DA. "Former U.S. Rep. Thomas A. Marino and his wife own a house in Lycoming County and a condominium in Vero Beach, Florida." (PennLive)
Editorial
4. What They're Saying
A glance around the Keystone State at editorials and opinions.
1 Thing
5. March Madness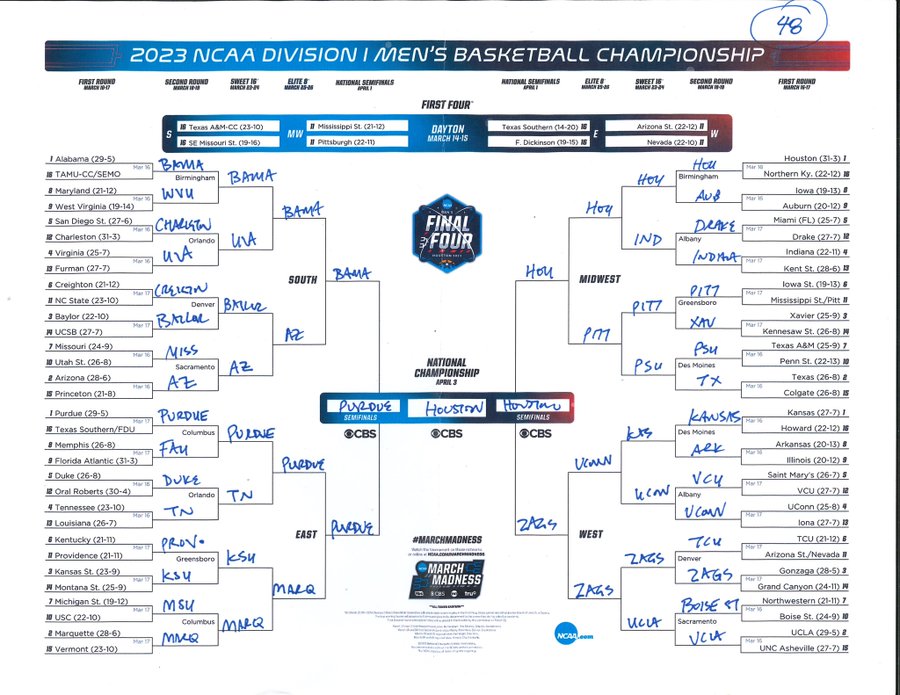 It's a bold prediction. One only a Pennsylvania governor could dream up.
Right there in his Sweet 16 round, Gov. Josh Shapiro has Pitt meeting Penn State in this year's NCAA Tournament.
The governor shared his bracket Wednesday on social media.
Thanks for starting your day with us.
What did you think of today's newsletter?
Please invite your friends
to subscribe to the PoliticsPA Playbook