http://youtu.be/RzEsTy4zv4w
The battle to replace Congresswoman Allyson Schwartz, who is running for Governor, continues to heat up.
Marjorie Margolies, vying in the PA-13 Democratic primary, released a web video ad Monday that focusing on the 20th anniversary of her tie-breaking vote to pass the 1993 Clinton budget on August 5, 1993.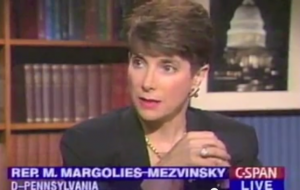 It features clips of her – then and now – standing by the vote that cost her re-election.
"I was not sent to Washington to back down from the tough issues then and I won't back down from them now," Margolies said in a press release.
Margolies served one term in Congress from 1993 to 1995. She was then defeated in her bid for re-election in 1994 by Republican Jon Fox.
When she ran in the 1990s, PA-13 was a swing district. Now, in a heavily Democratic district, Margolies is seeking to return to her old job.
As of now, four candidates are in contention for the nod in PA-13: Margolies, State Sen. Daylin Leach (D-Montco), State Rep. Brendan Boyle (D-Phila), and physician and health care activist Valerie Arkoosh.