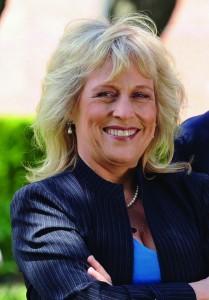 The Democratic Commissioner from Bucks County, Diane Marseglia confirmed that she is looking at a run for State Senate in District 6, currently held by Tommy Tomlinson (R-Bucks).
"I am considering it," Marseglia said, "But that's not in any way a guarantee. [First] I'm going to get through the holiday and talk to my daughter about it."
Marseglia, 52, was elected Bucks County Commissioner in November 2007 and re-elected in 2011. She is the lone Democrat on the 3 person board. Marseglia was raised in Lower Makefield and graduated from Pennsbury High School. By trade, she is a clinical social worker for children and families in Bucks County.
Democrats in Washington, DC have been trying to recruit her to run for U.S. Congress for several years.
Tomlinson, 68, has held the seat since 1995. He cruised to re-election by 16 points in 2010 and won by 7 points in the Democratic wave year of 2006.
He is a licensed funeral director. He owns and operates Tomlinson Funeral home in Bensalem, a family established business. He resides in Bensalem.
"Tommy Tomlinson is one of the most popular elected officials ever to serve in the Senate, and recent [internal] polling bore that out," said Mike Long, a Harrisburg-based political consultant who advises the Senator.
"Diane Marseglia is one of the most bitterly partisan Democrat politicians I have ever seen. That said, we expect Tommy to have an opponent and Marseglia is as good as any."
Representative Tina Davis (D-Bucks) was rumored to have been considering a run for the seat, but she ruled out a bid on Monday.
"I'm not doing it," Davis told PoliticsPA.
Davis and Marseglia have a personal relationship. "We wouldn't have run against each other," Marselgia told PoliticsPA.
Local real estate agent Robin Kemmerer is another name being floated for the Democratic nomination.
Including deep blue pockets in lower Bucks County, SD-6 is the kind of seat Democrats need to contest if they are to win a majority in the State Senate. The district gives Dems a 49% to 38% voter registration edge and leans left in statewide and federal races with a Democratic Performance Index (DPI) of 56%. In a rough year for Democrats, Joe Sestak took 50% of the vote over Pat Toomey for Senate and Dan Onorato earned 47% against Tom Corbett for Governor.
The 2012 numbers are even more promising for Democrats. Obama took 54%, Senator Bob Casey took 56% and Kathleen Kane had the best showing with 57%.
It is unlikely that 2014 will have as strong of a turnout for Democrats as 2012, a presidential year. At the same time, the election will likely not be as anti-Democratic as the GOP wave of 2010.