Doug Mastriano has broken away from the pack and appears to be the front-runner for the GOP nomination for governor in a Fox News poll that was released Tuesday evening.
The state senator from Franklin County pulled in 29 percent support from the 1,001 registered Republican voters that were surveyed from May 3-7. Former mayor of Hazleton Lou Barletta was second at 17 percent, while former U.S. attorney Bill McSwain and Delaware County businessman Dave White amassed 13 and 11 percent, respectively.
There are still 15 percent of respondents who indicated that they were undecided.
Mastriano has registered over 20 percent of support in each of the last four Pennsylvania polls and has received an average of 19.2 percent in the 11 polls recorded by PoliticsPA since February.
His average lead has increased to 3.0 percentage points over Barletta and nine-plus over McSwain and White.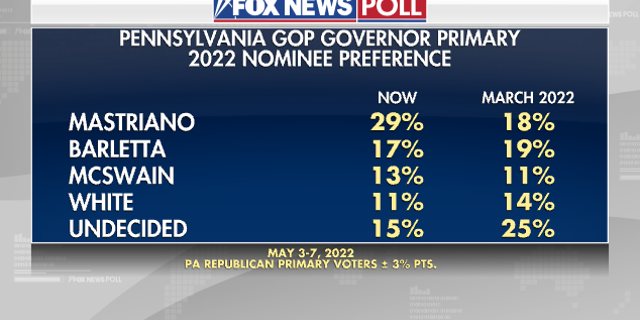 Mastriano, who has supported former president Donald Trump in his unsubstantiated claims of election fraud, has been under attack by his opponents, while also "receiving support" from presumptive Democratic nominee Josh Shapiro. The PA attorney general has run a statewide ad that says Mastriano "led the fight to audit the 2020 election. If Mastriano wins, it's a win for what Donald Trump stands for."