A poll commissioned by Democratic state Senate candidate Matt Smith shows him ahead of his Republican opponent Raja 53 percent to 40.
The poll was conducted from October 22-24 by Democratic firm Thirty-Ninth Street Strategies. They surveyed 400 likely voters via telephone interviews. The margin of error is plus or minus 4.9 percent.
Smith's numbers are 7 points net favorable: 38 percent to 25. Raja's are unfavorable, 45 percent to 38.
Smith should be able to hold on to his lead as long as he has the resources to effectively communicate with voters over the final 12 days of the campaign," said pollster Marc Silverman.
He also tested the presidential and U.S. Senate contests in the district; Mitt Romney leads Barack Obama 49 percent to 44 and Bob Casey leads Tom Smith 48 percent to 45.
"Matt Smith can release all the fabricated polling he wants, but his continued efforts to run disingenuous negative attacks on Raja without having a positive vision for the people of the district is the true sign of a campaign in trouble," said Raja's Campaign Manager Jennifer Hass. "Raja remains focused on getting his message out to voters."
In August, a Smith internal poll showed him leading 54 percent to 38. Romney lead then 47 percent to 46, and Casey lead 50 percent to 46.
As with any internal poll, it should be taken with a grain of salt. Announcing strong numbers like this could be an effort to attract last-minute support or to create a narrative of inevitability.
It's the 2nd poll they've released, but not the second they've conducted. They didn't release the results of a survey in late September.
Raja's New Ad
Meanwhile, Raja's final ad of the campaign is a potent spot starring his wife (above). A medical doctor (general practitioner), Raja says her husband's story is the American story.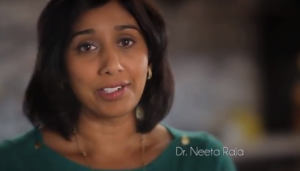 "Hi, I'm Dr. Neeta Raja. You've seen attack ads on my husband from people who don't know him," she says, straight to camera. "Here's the real story. Raja came here 25 years ago looking for the American dream, like so many before him. He put down roots here, we're raising our family here. Through hard work he built a business employing over 100 local people."
"Raja's story is an American story. Now Raja wants to take our shared values to Harrisburg, to make sure our children, and yours, have the same opportunity he had."
It's her first speaking appearance in any of Raja's ads, and a departure from the tenor of much of the campaign. Raja has cast Smith as a Harrisburg liberal, while Smith has cast Raja as a heartless outsourcer.
Raja's campaign says their internal polls show a narrow race (though they have not similarly released numbers). But a positive closing spot like this indicates that they want to use their final message to boost positive impression of Raja – something that corresponds with his favorability numbers in the Smith poll.
The 37th district comprises parts of Allegheny and Washington counties. Raja and Smith are vying to replace former Sen. John Pippy (R-Allegheny). It's one of the top legislative races and Dems' second-best hope for a pickup in the state Senate.