👏 Thursday Is Here. Getting ready for the long weekend.
PA Weather
Penn Hills | Increasing Clouds, 67
Millersville | Sunny, 70
Pittston | Sunny, 69
PA Sports
Phillies (23-26) | Arizona 6-5 (10) | Th-F-Sat-Sun vs. Atlanta
Pirates (25-24) | Texas 2-3 | F-Sat-Sun vs. Seattle
What We're Hearing
Former Auditor General Eugene DePasquale is considering a run for Pennsylvania Attorney General.
How To Get The Playbook
Sign up for your free subscription to the PoliticsPA Playbook and we'll email you every weekday morning. Yes, it's free. And everyone likes free.
Top Story
1. Will He Or Won't He?
"As state Sen. Doug Mastriano considers entering the U.S. Senate race on Thursday, one colleague is urging other Republicans not to support his bid.
Mastriano has talked publicly about running for Senate, and told ABC27 he is making "an announcement" on Facebook Live at 8 p.m. Thursday. The Republican nominee in that race will go up against three-term incumbent Sen. Bob Casey, a Democrat." (WESA)
Related
Why Mastriano's Announcement Tonight Matters. "As the self-proclaimed pioneer of the anti-mask movement in Harrisburg, state Rep. Russ Diamond would seem a natural ally of state Sen. Doug Mastriano." (PhillyBurbs.com)
PoliticsPA Reader Poll. We asked the readers of the PoliticsPA website, "Will Doug Mastriano Run For The U.S. Senate?" An overwhelming majority (91.5%) of the nearly 900 responses in the unscientific poll said "No, Not Enough Support From Mainstream GOP." The remaining 8.5 percent voted for "Yes, Let Doug Be Doug." FWIW, we asked the same question via Twitter and two-thirds of the nearly 125 respondents went the other direction. Thanks for participating.
Left Behind Polling Memo Shows Abortion Hurting Outlook For GOP. "One party's trash is another party's treasure. In the latest chapter of what seems to be a long-running series about Roll Call getting ahold of things people shouldn't leave behind, a binder from a conference an outside group held for top GOP Senate staffers at a West Virginia resort had some cautionary signs about the 2024 climate." (Roll Call)
Harrisburg
2. Senate Republicans Grill Shapiro Nominee About Election Integrity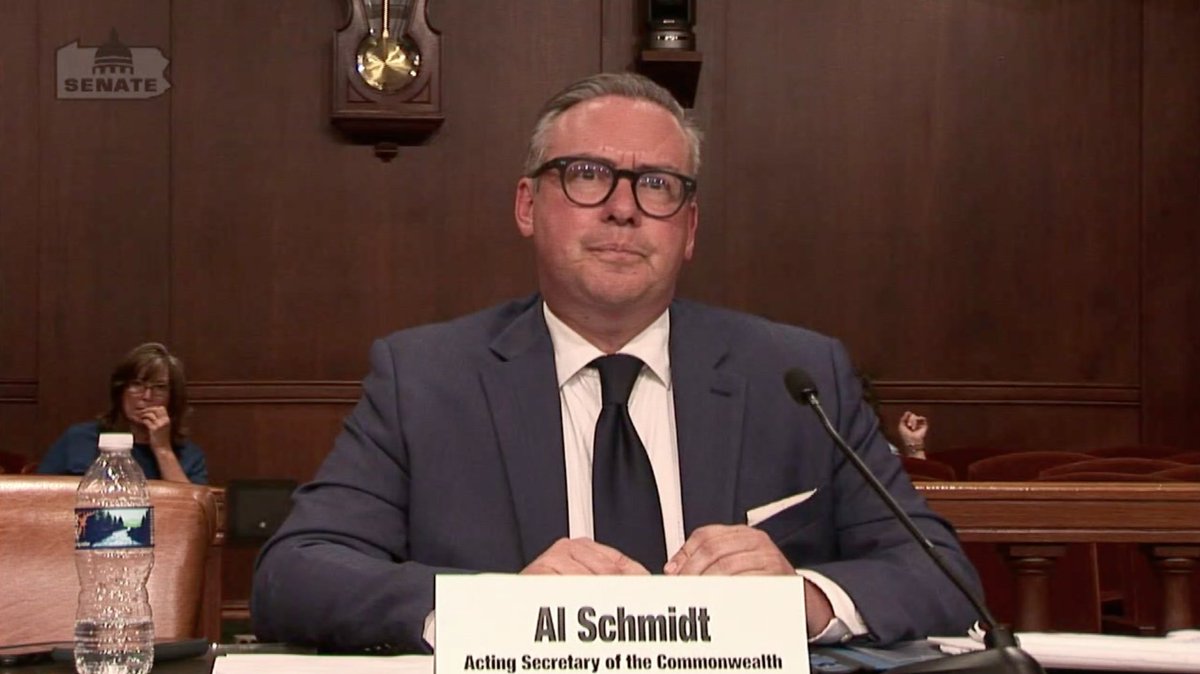 "The Pennsylvania Senate's first confirmation hearing for acting Secretary of the Commonwealth Al Schmidt focused on election integrity and security, with many questions surrounding past practice predating the nominee's brief time with the Department of State.
A substantial portion of the three-hour hearing, the first of at least two nomination hearings to be held for Schmidt, was dedicated to ERIC — the Electronic Registration Information Center, a multi-state funded clearinghouse where states share data to accurately update voter rolls. Pennsylvania is one of 31 states along with Washington D.C. that belong to the initiative." (CNHI News)
Related
Shapiro's Pick For Secretary Of State Subjected To Unconventional Confirmation Vetting. "Gov. Josh Shapiro's candidate to serve as the state's top election official is facing an unconventional multi-hearing confirmation process that began on Wednesday." (PennLive)
PA House Committee Passes Legislation Revising Hate Crimes Law. "A Pennsylvania House committee on Wednesday passed four pieces of legislation to beef up the commonwealth's hate crime statutes, with the party-line votes pointing to another partisan fight over LGBTQ issues." (PennLive) 
PA Supreme Court Hears Arguments On Order Halting Greenhouse Gas Reduction Program. "Pennsylvania's Supreme Court heard oral arguments in two separate but related cases over a multi-state cap-and-trade program aimed at reducing the commonwealth's carbon emissions. " (Pennsylvania Capital-Star)
New Caucuses, Special Election Season, And The Death Of A Bill. "As Pennsylvania approaches the June 30 budget deadline, top lawmakers are busy negotiating and Capitol lips are tightly sealed about what is being discussed. But that doesn't mean there isn't plenty of legislative trivia to explore as we all wait for more details to trickle out." (SpotlightPA)
Around The Commonwealth
3. 'Culturally' Raised In PA. Will That Matter As DeSantis Runs For President?
"Ron DeSantis says Pennsylvania helped forge his "God-fearing, hard-working and America-loving" nature. Never mind the fact that the Florida governor, who officially entered the presidential race Wednesday in a Twitter announcement plagued by glitches, has never actually lived in Pennsylvania." (Pittsburgh Post-Gazette)
Related
Parker Breaks Bread With Mayor's Race Rivals. "The candidates who ran in the Democratic primary for mayor gathered dozens of times for forums hosted by civic groups across Philadelphia, a grueling schedule they all came to loathe by election day last week." (Philadelphia Inquirer)
Shell Agrees To Pay $10 Million For Air Pollution At Massive New PA Petrochemical Plant. "Shell has agreed to pay $10 million to resolve allegations that it polluted the air around its massive new petrochemical refinery in western Pennsylvania, the administration of Gov. Josh Shapiro announced Wednesday." (AP)
Shell Appalachia Fined $10 Million For Air Quality Violations From Beaver County 'Cracker' Plant. "Under the agreement announced Wednesday, Shell will pay a $4.9 million civil penalty, with 25% going to local communities. Along with $5 million for environmental projects to benefit those communities and additional monthly civil penalties the remainder of 2023, overall the company will put $6.2 million toward improving the quality of life for local residents." (Tribune-Review)
Westmoreland Republican Row Officers Secure Democratic Nominations Through Write-In Votes. "Westmoreland County Treasurer Jared Squires and Controller Jeffrey Balzer were out to lunch in late April when they decided to put in motion a plan to ensure they wouldn't have any competition for the jobs they've held for the last 11 years." (Tribune-Review)
Rural PA Saw More People Move In Than Move Out. "Rural Pennsylvania's population is shrinking but it's not a result of residents relocating. More people are moving into rural communities than moving away and that includes working-age adults, a recent study of Census Bureau population data shows." (CNHI News)
Editorial
4. What They're Saying
A glance around the Keystone State at editorials and opinions.
1 Thing
5. 20 Things You May Not Know About "Star Wars"
The original Star Wars movie opened in theaters on May 25, 1977. It was given the subtitle, "Episode IV: A New Hope" in 1979. Here are some other facts that you may not have known about the movie.
Thanks for starting your day with us.
What did you think of today's newsletter?
Please invite your colleagues
to subscribe to the PoliticsPA Playbook