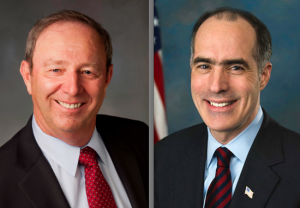 The Morning Call and Muhlenburg College have come out with a second joint poll today that shows the Democratic incumbent Senator Bob Casey has a solid lead of 19 points over his opponent, GOP candidate Tom Smith.
Here's The Morning Call's Colby Itkowitz with the report:
Despite airing television campaign ads for several weeks, likely Pennsylvania voters still have not formed an opinion of Republican Senate candidate Tom Smith.
Smith, who has the mixed blessing of having the most common of names, remains anonymous to 40 percent of voters, according to this week's Morning Call/Muhlenberg College poll. Just 18 percent have a favorable view of Smith and 13 percent an unfavorable one.

With just over three months of campaigning left until the November election, Smith trails Democrat incumbent U.S. Sen. Bob Casey by 19 points. Nearly half of the electorate, 49 percent, say they support or are leaning toward Casey, 30 percent for Smith and 18 percent remain undecided.
This gives Casey reason to breathe a sigh of relief. According to this poll, even if each undecided voter broke for Smith (highly unlikely), he would still come out on top.
Voters' opinion of Casey is mixed, though, which gives him reason to push forward with campaigning hard until the election.
He is viewed favorably by 40 percent of respondents and unfavorably by 26 percent, leaving a large 31 percent chunk of people who said they were neutral or unsure about him – that's not the best sign, especially given his name recognition and family history within the state.
Itkowitz also wrote that 35 percent of those surveyed have "no opinion" of the job he's done, with only a slightly higher 37 percent approving.
These numbers correspond closely to his favorability rating, with 28 percent disapproving of the freshman Senator's work.
The poll of 422 likely voters was conducted Monday Aug. 20 through Wednesday Aug. 22. There is a margin of error of +/- 5 percent.