By Brittany Hundzynski and Keegan Gibson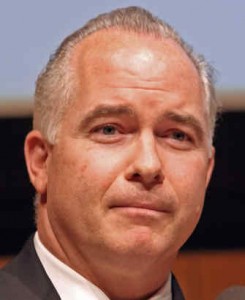 Dan McCaffery has been campaigning in western PA, and it paid off this week. The former Philadelphia Assistant District Attorney turned Attorney General candidate rolled out a list of endorsements on Tuesday that includes a PA state lawmaker.
Beaver County Sheriff George David
Representative Dom Costa of the 34th Legislative Distrct, Allegheny County
Dani Bertani, Westmoreland Democratic Chair
George Vitek, Washington County Democratic Party Chair
Richard G. Shreckengost, Armstrong County Democratic Party Chair
Fred Lebder, Fayette County Democratic Party Chair
Mayor Marty O' Malley of Forest Hills, PA.
It comes after a weekend of traveling to: the Beaver County Labor Council picnic, the Bloomfield Columbus Day Parade, Rep. Mike Doyle's picnic, PA Rep. Tim Mahoney's picnic and a meeting of the Firearms Owners Against Crimes.
McCaffery's primary opponents are former Lackawanna County prosecutor Kathleen Kane and former Congressman Patrick Murphy of Bucks County.
In a race between two southeastern PA candidates and someone from the northeast, western PA may be the part of the state most up for grabs (provided Allegheny County DA Stephen Zappala doesn't get in).
Though McCaffery's first list shows progress, Murphy has racked up significant support among elected officials, labor groups, and Democratic party leaders including former Governor Ed Rendell and Allegheny County Exec Dan Onorato. For a full list of Murphy's supporters, click here.
Despite having a shorter list of endorsements, McCaffery believes he has a message that resonates.
"People understand and support my message. They agree with my stance that, over the past five years, our nation has experienced a financial meltdown as a result of Wall Street's unchecked fraud and greed. Hardworking Pennsylvania men and women need someone to stand up and fight for their rights. I am running for Attorney General because I will make this stand."