http://youtu.be/-Yc6G2zO5mA
Rob McCord is the incumbent Treasurer, Obama looks to carry the state and boost the Democratic party ticket, and he enjoys a nearly $2 million fundraising advantage over his opponent. This week, he looks to seal the deal with a big TV buy.
The first is a fairly standard, positive ad.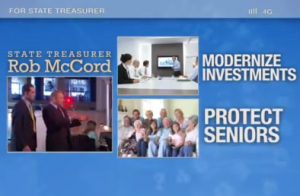 "Rob McCord used his business experience to help fix state government," an announcer says. "Under Rob McCord, spending in the Treasurer's office was cut by 25 million dollars. Fewer cars, less staff."
"State Treasurer Rob McCord: an independent businessman who's protected pensions and saved taxpayers money."
The Pa. Treasurer launched two new television ads this week, one positive (above) and one split positive/negative. Both were produced by the Campaign Group.
PoliticsPA is seeking a copy of the split positive/negative ad from McCord's campaign. Viewing it briefly in the Harrisburg market, it appeared to criticize his opponent for taking a pay raise.
—-
Update: Irey Vaughan fired back at the negative ad, which McCord's campaign still has not given to PoliticsPA.
"I am disappointed that Rob McCord has decided to resort to desperate tactics to keep his job. The ad that his campaign released yesterday is misleading and I call on him to remove it from the air immediately. Making misleading statements may be accepted practice on Wall Street, but not on Main Street," she said.
She added she fought against pay raises for county employees and herself, and returned her raise in 2010. Further, she said, Washington County property taxes are among the lowest in the state.
—-
He faces Diana Irey Vaughan, a five-term Washington County Commissioner.
The scant polling on the race has shown that many voters don't know about the Pa. Treasurer race and aren't decided. McCord has lead Irey Vaughan by 34 percent to 33.
The ads went on the air Tuesday in broadcast markets across the state. The first week of his ad buy, according to filings with the Federal Communications Commission, comprises about $150,000 in Philly and $63,000 in Pittsburgh. Extrapolating the buy to other markets where stations aren't required to post filings online, his first week probably comes with a price tag of around $300,000. It will likely increase for the final week of the campaign.
That's not enormous by Pa. standards, but it's well beyond the capability of Irey Vaughan, whose campaign reported less than $30,000 on hand last month. McCord reported over $2 million. The real question, given that McCord is widely expected to challenge Gov. Tom Corbett in 2014, is how much campaign cash he can keep on hand while still achieving a convincing win this year.
His campaign declined to specify ad buy details, and McCord has repeatedly dismissed speculation of his political future.