Local official and conservative activist Rob Ciervo says he'll challenge Chuck McIlhinney (R-Bucks) if the state Senator doesn't support efforts to privatize the state's liquor stores.
"If House Bill 790 as it is right now is not passed by the state Senate, then I'm going to probably be running. 95 percent chance," Ciervo told PoliticsPA.
It's the latest wrinkle in the complicated GOP push to turn the state's 600 wine and spirits stores over to the private sector.
Ciervo (SER-voh) says he hadn't seriously considered a primary before the liquor issue came to the fore.
"I hadn't really been thinking about it," he said.
Supporters of privatization say the government has no role in the sale of alcohol and that Pa. is one of just 2 states that remains in the industry post-Prohibition. They add that the state would retain the same annual benefits thanks to increased tax revenue. Ciervo made those points in a recent op-ed.
Opponents say the move would risk roughly 3,500 good-paying jobs as a giveaway to private interests. They contend that the numbers don't add up and that the state would be needlessly selling off a cash cow – but agree that changes are needed within the current system.
Gov. Tom Corbett has staked a big part of his reputation – and his re-election – on the effort. House Republicans overcame years of inertia on the issue and passed a modified privatization bill Thursday.
Now it's on to the state Senate, where Chuck McIlhinney is in the hot seat. He's the chairman of the Law and Justice Committee which has jurisdiction over the issue, and must try to forge a bill that can pass the whole chamber.
For starters he says no to HB 790, the bill that passed the House last week. He told constituents that he'd have voted against the measure, according to the Bucks Intelligencer, and favors a plan that would keep Pa. in charge of its liquor stores.
That's on par with a number of other Senate Republicans, particularly in southeast Pa., who have expressed less than a keen interest in privatization.
Potential Primary
A primary over liquor would highlight a schism between some elected Republicans, who urge moderation, and grassroots activists who demand full privatization. And it echoes a broader complaint by the GOP base: with total Republican control of state government, why isn't more getting done?
"We've had enough. People here, we have issues we've tried to push, and we all we hear is excuses from politicians like McIlhenney," Ciervo said. "We've got a Republican state Senate, a Republican state House, a Republican Governor."
"Nothing infuriates people at the grassroots level more than hearing that. That it's not a Democrat that's blocking their issues. It's union Republicans."
A Republican politico close to McIlhinney noted that the bill as written leaves much to be desired.
"The House bill can be greatly improved. Are these people going to back off when [the Senator] does that?"
Probably not. Ciervo said if the Senate waters down the bill even a bit, he will likely run. He said HB790, which advantages beer distributors, had already strayed from his ideal version of the bill.
Ciervo, 44, lives with his wife and three children in Newtown where he serves as a Township Supervisor. He is in the final year of his 6 year term and is not seeking re-election. He works in the academic support center at Rutgers University's Camden, NJ campus.
It wouldn't be his first run for legislative office. He came within 163 votes of defeating state Rep. Steve Santarsiero (D-Bucks) in HD-31 in 2010.
He says he's been calling grassroots activists, party leaders and elected officials in the district about a bid and has been encouraged.
However, several operatives told PoliticsPA he has a strained relationship with the party in a county where the GOP organization remains fairly strong and influential – and unwelcoming to primaries. He and supporters blamed party folks in Bucks County and Harrisburg when his 2010 campaign fell short, they say.
"His narcissism knows no bounds," said one such operative, who is close to McIlhinney. "He lost his own home township in his last run for office. And now threatens the very person who originally supported him for Supervisor."
Update: Ciervo says McIlhinney was not among his initial supporters. He said, "Since I was not endorsed [McIlhinney] asked me not to run so there was not a primary… Chuck was never an initial supporter of mine as I ran against the establishment."
In 2012, when the nomination fight for the 31st came between party-endorsed Helen Bosley and conservative Anne Chapman, Ciervo managed Chapman's campaign. Bosley, who previously worked for Planned Parenthood, fell to Chapman nearly 2 to 1 in the primary. Chapman went on to lose to Santarsiero by 15 points.
But he has some support in a prospective Senate bid. He says the conservative activists and donors at the Citizens Alliance for Pennsylvania are encouraging him to get into the race. The group has supported and funded a number of GOP challengers in recent years including Chapman, as well as the man who ousted Rep. Rick Geist (R-Blair), John McGinnis.
Like Geist, McIlhinney supported a 2001 bill that increased lawmaker pensions by 50% – a favorite topic for CAP.
"There's a lot of local and statewide money out there interested in challenging state Senators," said one conservative operative, who noted that recruitment efforts were ongoing in SEPA and elsewhere.
Let there be no doubt, however, that Ciervo would face a steep uphill battle. Senate Republicans tend to stand by their own; there's quite a bit of money out there for incumbents, too.
The District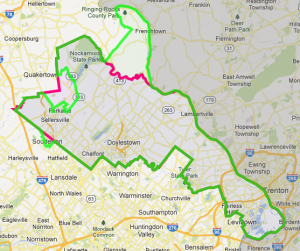 The 10th Senate district comprises most of Bucks County by area, from the outskirts of Levittown north along the Delaware River to include Doylestown, Newtown, Upper and Lower Makefield and more.
It's a swing district with a 42.8% to 40.3% voter registration advantage for Republicans according to Labels & Lists. Democrats include it among their potential targets for 2014.
The latest version of the redistricted state Senate map wouldn't change the SD-10 much; it would retain 93.4% of its voters including 93% of its Republicans.
HD-31, where Ciervo ran, is well-represented in the Senate district: about a quarter of the voters in the current and proposed SD-10 also live in HD-31. The House seat is located entirely with the current SD-10.
McIlhinney, 45, has served in the state Senate since he was elected in 2006. He was in the state House from 1998 to 2006 and formerly served on Doylestown Borough Council. He lives in Doylestown Township with his wife and two children.
If Ciervo does take a pass, one operative named Pennsbury school board member Simon Campbell as another possibility. A British, naturalized American citizen, Campbell has name ID among statewide conservatives due to the group he founded called Stop Teacher Strikes.