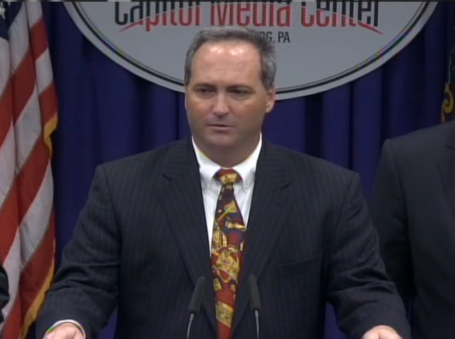 Harrisburg — If you can't beat 'em, undersell 'em.
Senator Chuck McIlhinney (R-Bucks) unveiled his amendments to Senate Bill 100 Tuesday, making substantial changes to the law passed last March by the House.
His plan would not immediately sell off the Commonwealth's 621 retail stores. Instead, he would create new licenses and allow other retailers to compete with the state stores.
Closure those decisions will be left up to the Liquor Control Board who over the next two years could determine which stores to close based on their sustainability.
"The only formula for cutting stores is the LCB determining if the private sector fills the demand," said McIlhinney, who chairs the Senate Law and Justice Committee.
McIlhinney said he differed from Governor Tom Corbett and House Majority Leader Mike Turzai – who wanted the state system to be sold immediately – because he believes Pa. can get more for its money. He previously said he would have voted against HB790, the House's liquor bill.
He had backup.
"If we were board members of a corporation with those valuations at that price our stockholders would sue us," said Senate President Pro-Tempore Joe Scarnati (R-Jefferson).
Scarnati and McIlhinney said that the system may be worth far more than the current estimated $550 million, given the amendment's provisions for the continuation of the state liquor wholesale system for the next two years.
McIlhinney's proposal also does away with bidding for state liquor licences. The new legislation provides for the payment of an annual fee paid by the licence holder which varies depending on the services the license holder is licensed for.
The new licensing fee regimen makes it $8,000 for a wine and spirits license, $4,000 for wine or spirits, and $2,000 for specialty spirits.
"We heard most from existing licence holders and hear most about maintaining the value of their licence," he said.
With the price of a liquor license bidding up into the hundreds of thousands in some locations, the new fees in many places will be a major drop in cost. McIlhinney said that those lost revenues will be recouped by increased sales.
Store hours would increase from the current closing time of 9pm to 11pm and would be able to be open on Sundays. Sales in grocery stores would be permitted, and could be purchased at any register, but the store must continue to have a license for consumption and seating accommodations. There is package reform allowing for restaurants, hotels, and eating places to sell up to four six packs, or two twelve packs.
The amendments would also eliminate the Johnstown Flood Tax, the 18% tax on all wine and liquor sales and put all excess revenue from the previous year into a fund for property tax freeze on senior citizens.
When asked if he had the votes needed to pass through the Senate, McIlhinney responded, "I have enough votes to get it out of my committee."
Senate Majority Leader Dominic Pileggi (R-Delaware) said they did not currently have the 26 votes needed to pass the Senate but did offer his support.
"Senator McIlhinney has done a great job and this is an excellent starting point."
This sentiment was echoed by Governor Tom Corbett in a statement released after the press conference.
"Senator McIhinney's legislation is another important step in giving Pennsylvanians what they want: choice and convenience," he said.
If Senate Republicans want to deliver a bill to the governor's desk before the summer recess though they will need to work quickly. Only 12 days remain in the current session.
Senate Democrats remain unified in their opposition to the Republican's plan in a statement from Senator Jay Costa's (D-Allegheny) office, also released in response to McIlhinney's announcement.
"The plan offered by Senator McIlhinney confuses the issue and raises significant questions about lost revenues and wine and spirits expansion into to tens of thousands retail outlets without control," he criticized.
Costa wasn't alone. Capitol police had to empty the room prior to the event and agreed to readmit only 10 of the UFCW 1776 workers who sought to protest the measure. The union represents state store employees.
McIlhinney also took a shot from Matt Brouillette, President & CEO of the conservative Commonwealth Foundation think tank and a strong supporter of privatization.
The plan, "falls short in delivering the convenience, selection, and pricing that Pennsylvanians demand," Brouillette said.
"His proposal, which keeps the state-owned and operated liquor stores as well as the government-run wholesale monopoly of wine and spirits cannot be considered privatization."