With election day less than two weeks away, video advertising efforts went from zero to one in the race for a seat on the state's Superior Court.
From the camp of current Allegheny Court of Common Pleas judge Jack McVay comes a positive, optimistic ad touting the candidates focus on family issues — including "keeping families together" in the family division of the court of common pleas.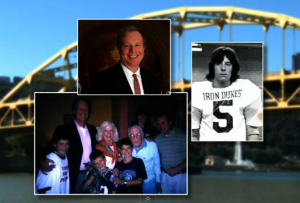 Spoiler alert: McVay is from Pittsburgh.
"Judge Jack McVay has done a lot of things in life he really likes," the narrator said at the beginning of the ad.
The relatively general statement leads into a quick summary of McVay's involvement in Pittsburgh sports, from playing football for Duquesne, to working the press box at Steelers games, to throwing out the first pitch for the Pirates.
Then, the ad segues into what really inspires the candidate — his work as a judge in the Allegheny Court of Common Pleas.
"Now he wants to take his work to the Pennsylvania Superior Court," the narrator continued.
The ad was produced by Marty Marks, McVay's campaign manager, with production assistance from KDKA.
"The commercial is intended to drive home two points," said Marks. "First that Judge McVay stands out because of his experience of serving as a trial judge at the Common Pleas level, and second, he is deeply rooted in western Pennsylvania culture and values."
Marks said the campaign was planning to air the ad at 1,000 gross ratings points (GRP) in the Pittsburgh market with the hopes of expanding to other areas if funds are available.
That would be a stretch. McVay had about $40,000 on hand at the end of last week. 1,000 GRP in the Pittsburgh market costs around $125,000.
Update: McVay told PoliticsPA that the campaign will reach at least 900 GRP through additional fundraising and a sizable contribution by McVay to his own campaign.
A GRP is a unit of broadcast television advertising time. Conventional wisdom is that 100 GRP means the average viewer will see an ad once.
The race for Superior Court is the only statewide contest on the ballot in Pa. this November, McVay will take on Republican attorney Vic Stabile.
Despite Stabile's solid fundraising advantage – he's raised many times more than McVay – the race will still be a challenge for the Republican.
McVay has the advantage of a strong geographic base. If voters there know he's a local, he will have the edge over Stabile of central Pa.
Stabile faced a similar issue in 2011 when David Wecht defeated him in the race for Superior Court (although Wecht's famous family name made as much difference as anything).