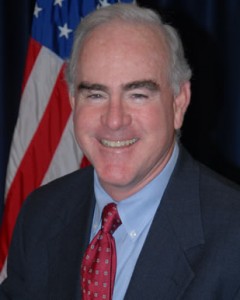 Incumbent Congressman Rep. Pat Meehan (R-Delaware) has raised more than $2 million during the 2012 election cycle, his campaign announced Tuesday, with nearly $500,000 of that coming in during the second quarter alone.
His challenger George Badey is lagging far behind, according to OpenSecrets.org. He raised less than a quarter of a million dollars. However, Badey has maintained that he has one thing on his side: the voters.
The Badey campaign surveyed 400 voters in the district, and reported that they favor Badey 41 to 38 after hearing Meehan's record on Medicare and women's health. As with any internal poll, the results should be taken with a grain of salt, as they are largely done to boost fundraising or show campaign viability.
It was presumed that Badey aimed to do both, given that this race was largely overlooked until the campaign released the poll.
But Badey's claim – that he is gaining popularity and shrinking the gap between himself and Meehan – is significantly contradicted by the fundraising numbers, which shows the incumbent Rep. with a wide margin.
While Badey has declined to comment on his opponent's financial achievement, Meehan said in a press release that in order to see which candidate the people support, one only need to look at the numbers.
"Surpassing the $2 million milestone is a true testament to the strength of our campaign organization and to the groundswell of support for our agenda to create jobs and grow our economy," he said.
"Our success over the last year and a half positions us well to communicate my message to the residents of the new 7th Congressional District."
A rally will be held by the Badey camp Wednesday afternoon in front of Rep. Meehan's Springfield office. The purpose of the event is to call attention to Meehan's vote to repeal the Affordable Care Act, which the Badey team says will help thousands of people and businesses in District 7.