By Keegan Gibson, Managing Editor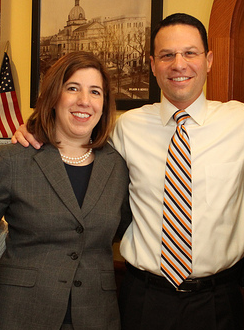 In a county where courthouse politics is defined by strong and sometimes clashing personalities, Josh Shaprio and Leslie Richards are keeping it cool. In a recent interview, the Montgomery County Commissioner candidates emphasized their drama-free approach to county government.
"Montgomery county voters expect and deserve a quality government, not the bickering they've seen over the last number of years," said Shapiro, who has polished his speaking skills in DC and Harrisburg. "We think that we're going to give them good quality government."
"We will always be interested in moving what's best for Montgomery county forward," Richards agreed. "We are going to be focused on what's best for the residents and businesses of Montgomery county and not get caught up in any type of individual-minded types of discussions. We're here for the county residents."
Background
Since Shapiro was elected to his Abington-based seat in the PA House in 2004, he's earned the reputation of a pragmatist as well as a convicted Democrat. For the decade prior, Shapiro worked as a congressional staffer in Washington, DC – including four years as chief of staff to U.S. Rep Joe Hoeffel.
He's 38, married to his high school sweetheart and has four children: a 9 year-old girl and three boys, ages 6, 2 and 5 months.
Richards is relatively more of a newcomer to elected office. She was elected to the Whitemarsh Township Board of Supervisors in 2007. However, as a senior project manager at a civil engineering firm, she boasts a long list of experience with the types of projects that dominate municipal and county government.
She's 44, married, and has three children: a 14 year-old boy and two girls, 11 and 8.
The Campaign
Shapiro and Richards are running an active campaign. They currently have about ten staffers on payroll (excluding consultants): a campaign manager, communications director, finance staff and several field workers. The campaign recently opened a second office, in Ardmore, and Shapiro says they ultimately hope to have seven field offices across the county. With an absence of high-dollar campaigns in PA this year, a plethora of Democratic campaign operatives are hoping to work in one of those offices.
"Republicans are very good at getting out their vote," said Montgomery County Democratic Committee Chairman Marcel Groen. "It's not traditionally a Democratic strength, but this year looks to be different."
Shapiro believes their ticket will pull independent and even Republican votes.
"I think when you look historically at Montgomery county over the last number of years Democrats have outperformed Republicans. But we don't look at historical trends or voter registration numbers and rest on that- we're going out and competing for every vote. What you'll see at the end of the day is not only are we going to win two seats, we will win that on the strength of our ability to get support from Democrats, Republicans and Independents."
Their fundraising has made headlines – primarily because some big donors who previously gave to Montco Republicans have been contributing. In their most recent campaign finance filing, the pair reported having raised $150,000 in the month since the primary, and boasted about $1.3 million cash on hand in their combined and individual committee.
And that doesn't include, "some very significant pledges," said Groen. "We've never had anything this good."
The Message
PoliticsPA asked each ticket for their "elevator speech" – the core 5 second message that they want voters to hear.
"'We need to vote for Josh Shapiro and Leslie Richards. They're going to bring good, operative government- create jobs, grow the economy in Montgomery county and improve our quality of life.' Thats what we stand for," said Shapiro.
The Opponents
Aside references to partisanship or bickering in Norristown, Shapiro and Richards seldom mention their opponents, Republican incumbent Commissioner Bruce Castor and Lower Merion Township Commissioner Jenny Brown.
However, the pair was ready to answer some of the criticism coming from the other side – particularly the characterization of Shapiro as an apprentice to current Commissioner and former Congressman Joe Hoeffel.
"He's not running," answered Shapiro when asked whether his former boss was an asset or a liability, "Leslie Richards and Josh Shapiro are running. We're very proud of our records. We're focused on doing things our way. What you've seen so far in this campaign is that we've taken positions quite different from those of the commissioners. Leslie and I oppose tolling for 422 – he supports it. We oppose keeping an airstrip. Joe supports it. We're very different people with very different views and we're focused on running our race."
When it comes to the main GOP salvo, that Shapiro and Richards are tax-raisers, each was especially adamant. Shapiro defended his votes in favor of Marcellus shale severance tax, while Richards said she supported an emergency services fee – for police, ambulance and fire – on people who work in Whitemarsh township but don't live there.
"We are against raising taxes on county residents and against property tax reassessment," Shapiro said.
Richards v. Brown
Most observers agree that Castor and Shapiro have enough name ID to secure a spot on the board. The crucial race, therefore, is between Richards and Brown. Shapiro knows that his running mate is the the difference between making history on the one hand, and sitting in the Commission's lonely minority seat on the other. It's why he never appears in public without Richards, and often makes a point of deferring to her.
Asked what her advantage is in such a contest, Richards cited her background as a civil engineer.
"It's my private sector experience: helping communities improve their quality of life, making sure that large infrastructure projects get done on time and on budget, and my reputation for always keeping an eye on the bottom line," she said. "Throughout this whole county we have a lot of different municipalities and boroughs and we have to make sure that we see the uniqueness of each one and all the individual concerns. We can't go in with some cookie-cutter approach across the county. It's just not going to work."
Meghan Schiller contributed to this report.