"When you are a mother, you are never really alone in your thoughts. A mother always has to think twice, once for herself and once for her child." – Sophia Loren.
It was January, 2021. COVID-19 was entering its second calendar year and the country had yet to re-open.
A pair of former Florida school board members, Tiffany Justice and Tina Descovich, had reached a boiling point. They were outraged by pandemic restrictions and mask mandates and sought for a way to rally like-minded women and others to oppose them.
And Moms For Liberty was born.
Its mission has changed in the interim. Its website declares that it is "dedicated to fighting for the survival of America by unifying, educating and empowering parents to defend their parental rights at all levels of government." But Moms For Liberty has become a prominent voice in conservative circles and has focused its attention on school curriculums that touch on LGTBQ rights, race and discrimination, and even the way schools define a scientific fact.
And now, the group is "calling all joyful warriors" to the Philadelphia Marriott Downtown on June 29 – July 2 for its national summit.
Why leave the Sunshine State to come to the Keystone State?
Simple. Pennsylvania has the second-highest number of Moms For Liberty chapters in the country behind Florida.
Not everyone is excited by the summit coming to town. Particularly because Moms For Liberty has been extremely vocal about its positions and has not been shy about demonstrating for them.
Why does it matter?
Census data has shown that women have had higher turnout than men in midterm and presidential elections since 1982. One-third of women identify as conservative. Republican women vote for the GOP candidate nearly all of the time, according to analysis from Gallup and AP Votecast.
The group has ties to prominent Republicans. Speakers at the summit include former President Donald Trump, Florida Gov. Ron DeSantis, GOP presidential candidates Nikki Haley and Vivek Ramaswamy, and president of the Heritage Foundation Kevin Roberts among others. One of its former directors is married to the chair of the Florida Republican Party.
Donors to the group are unclear, as Moms For Liberty (M4L) was created as a 501(c)(4) nonprofit organization, also known as "social welfare organizations." According to the IRS, "To be operated exclusively to promote social welfare, an organization must operate primarily to further the common good and general welfare of the people of the community (such as by bringing about civic betterment and social improvements)."
According to its 2022 IRS Form 990, M4L – which claims 115,000 members and 275 chapters nationally – had gross receipts of over $500,000 with assets totaling more than $200,000.
During 2021, Moms For Liberty spent $141,080 on a program that "provides guidance to parents regarding their right to have a voice in health and safety decisions affecting their children. M4L distributes educational materials, provides resources and tools, and develops programs and initiatives relevant to parental rights, in addition to supporting its chapters across the country in their efforts to make a similar impact at the regional level."
Lately, the group has been actively pursuing a national school board strategy with a goal of getting conservatives onto school boards, banning books with LGBT content from both school and public libraries, and forcing schools and libraries to eliminate LGBT and other diversity programs.
Recently, the group blasted PEN America – a group who works to ensure that people everywhere have the freedom to create literature and to convey information and ideas – who issued a report on book banning. "If PEN America were truly dedicated to protecting free speech, we would have heard them fight to protect the many parents who spoke up during the pandemic and were silenced at their own school board meetings. Now they are releasing so-called 'reports' calling books 'banned' when they know full-well that schools are allowed to curate instructional materials to be age-appropriate. There are parents fighting across the country because even while a solid one-third of 4th and 8th grade students in America cannot read on grade level, there are more books found each year explaining sexual positions and sexual acts using sexually explicit words and photos. Sexualizing young children is wrong."
Last week, a Monroe County chapter chairperson was fined for harassment against a member of the group, "Stop Moms For Liberty."
The Free Library of Philadelphia is expecting protests of LGBTQ-related events during the summit at three branches – Philadelphia City Institute (on Rittenhouse Square), Independence Library (near Washington Square) and two departments of the main library on the Parkway (the Children's Dept. and the Field Teen Center).
Pennsylvania State Senator Nikil Saval, and Reps. Mary Louise Isaacson and Ben Waxman sent a letter to Philadelphia Marriott, expressing their dismay that the hotelier signed on for the event.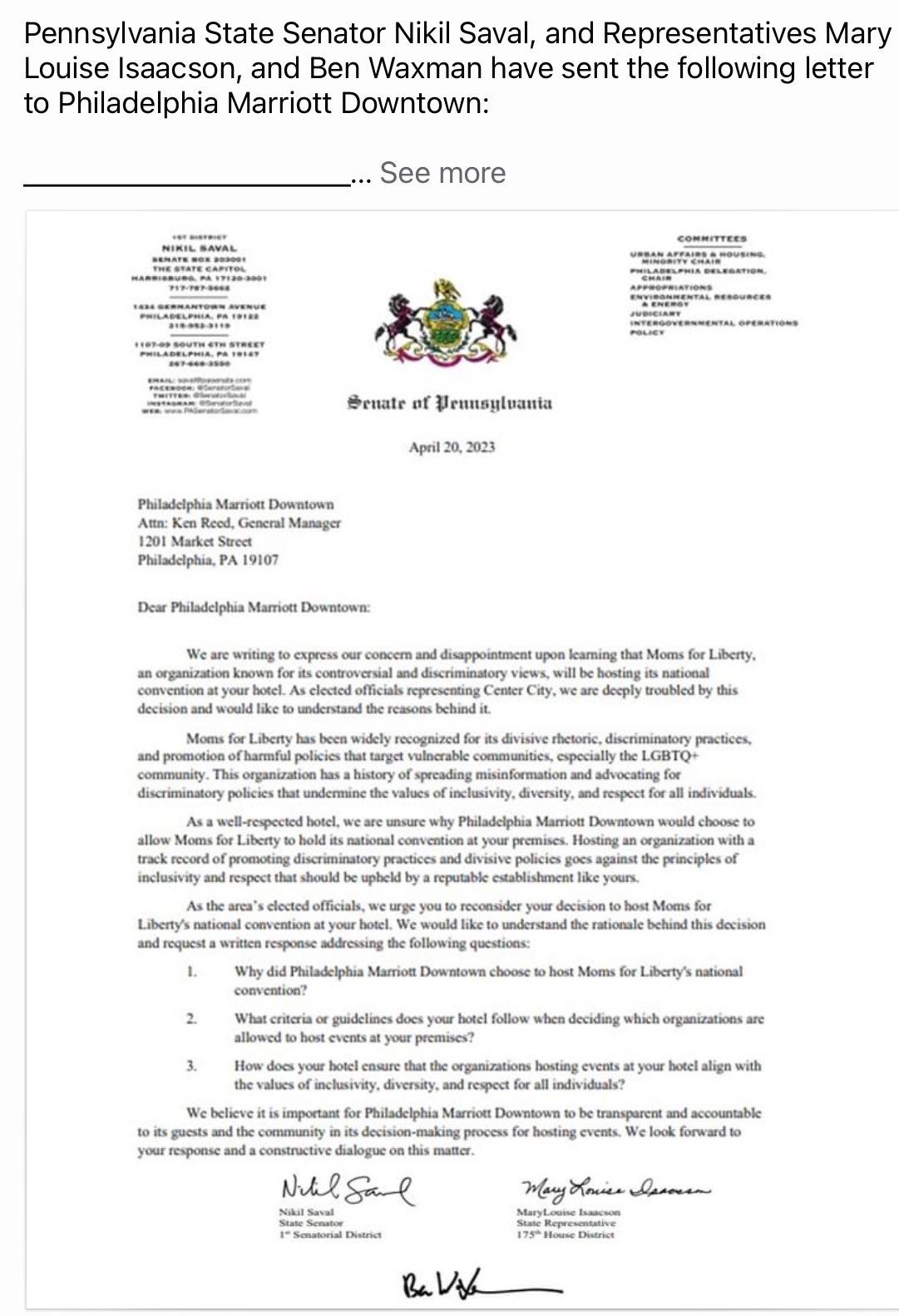 What does it all mean?
Democrats have been courting suburban women who are repulsed by Trump and MAGA antics for most of the past decade. Yet, conservative women are good at rallying the GOP around themselves in the name of traditional family values.
Are culture wars good for winning elections? Not to date. But they will continue to be a rallying cry for Republicans like Moms For Liberty and those who believe in their cause.