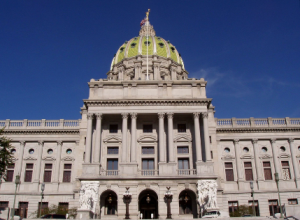 The state House and Senate passed the budget and Governor Tom Corbett signed it hours before the deadline Sunday night. He did so sans his big three legislative priorities though. All that is left to be taken care of are code updates, and one promises to be a fight to the finish with Medicaid expansion in the balance.
The House will convene at 1 pm Monday.
Here are the latest updates from the contentious budget fight.
Corbett Goes 0-for-3 in On-Time Budget: While the governor did fulfill his promise again of another on time budget, he did so without any of the accompanying legislative victories in Pension Reform, Liquor Reform, and Transportation funding that he sought after.
Senate Passes Medicaid Expansion: Much to the chagrin of House Republicans the Senate passed a Medicaid expansion measure with GOP support last night. It will come for a vote in the House today or tomorrow.
Transportation, Liquor Debate Over for Now: The PA Independent has House Majority Leader Mike Turzai (R-Allegheny) on record saying that there is no chance either Liquor or Transportation will be going any further this session.
Capital Stock and Franchise Tax Will Live On: A tax on business assets that was set to phase out this year will be renewed in the Tax Code legislation being moved today and tomorrow.
Many Capitol Lobbyists Walk Away Empty Handed: Corbett's loss of his big three agenda items was not only a blow to him, but the hundreds of trade organizations, business associations, construction unions and other interests pushing for the legislation's passage.