Hillary Clinton and Katie McGinty are holding on.
That's according to the latest Monmouth University poll of Pennsylvania.
They found Clinton with 48% while Donald Trump, Gary Johnson and Jill Stein received 44%, 3% and 1% respectively.
In the Senate contest, McGinty is ahead of Pat Toomey 47% to 44%. 3% chose Libertarian Party nominee Edward Clifford.
These results are a mixed bag for Clinton as she led by ten points in early October. Nonetheless, in the aftermath of James Comey's letter to Congress she is still ahead. As for McGinty, these are good results considering last month her race was tied.
In fact, just 4% of respondents said the news changed their mind while 89% answered that it had no effect.
Additionally, Monmouth recorded the favorable/unfavorable splits for each candidate:
Clinton – 36% Favorable, 53% Unfavorable
Trump – 32% Favorable, 54% Unfavorable
McGinty – 27% Favorable, 28% Unfavorable
Toomey – 31% Favorable, 30% Unfavorable
Sen. Toomey has a 40% approval rating and a 37% disapproval rating.
The full crosstabs are presented below: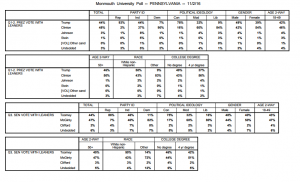 The Monmouth University Poll was conducted by telephone from October 29th to November 1st with 403 Pennsylvania residents likely to vote in the November election. This sample has a margin of error of +/-4.9%.