"There are very different dynamics at play among the Democratic and Republican bases in Pennsylvania, as voters there prepare to nominate their respective party's candidates for U.S. Senate. The Monmouth University Poll finds the Republican electorate is heavily ideological and focused on two key issues right now, but there is no consensus on which candidate should be their standard-bearer. 
Democrats, on the other hand, appear to be converging on a Senate choice even though they are divided on their party's ideological future and have a long laundry list of issues that are important to smaller groups of voters within the party. Interestingly, more Democrats say it is very important for their nominee to be a strong supporter of Joe Biden than Republicans say the same about their nominee's support of Donald Trump. And Trump's endorsement has not helped his chosen candidate break away from the pack."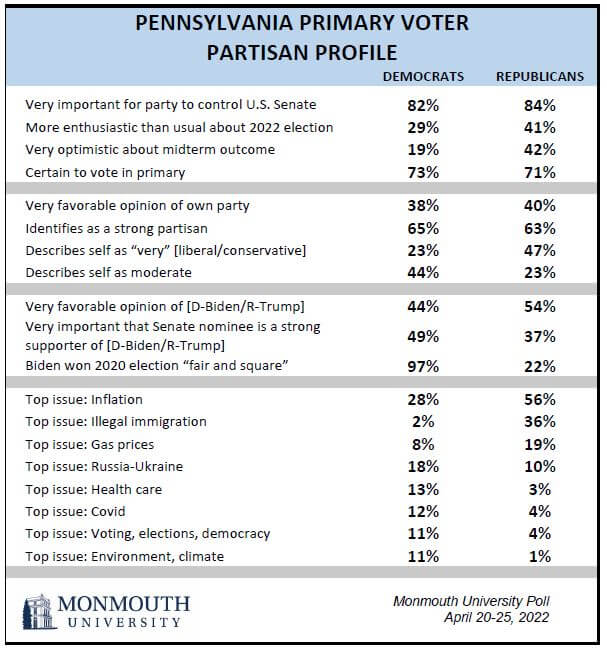 >> Court Awareness: "With this poll, Monmouth is moving away from asking the traditional "horse race" question in covering elections because of the reductive tendency to focus on margins. Instead, the poll questions address the underlying dynamics of the race and the relative strengths and weaknesses of the field of candidates which give a fuller picture of the state of the race."
>> Democrats: "Lt. Gov. John Fetterman appears to have an edge over the rest of the field. He holds a 68% favorable rating and has the highest name recognition (81%) of the four Democratic candidates on the ballot. Just under half (44%) of Democratic primary voters say they are very likely to support Fetterman in the upcoming Senate primary. Western Pennsylvania congressman Conor Lamb also has a relatively high favorability rating (51%) as well as name recognition (65%). However, only 23% say they are very likely to vote for him in the primary. Philadelphia-based legislator Malcolm Kenyatta has a 32% favorable rating and 43% name recognition, with 14% who are very likely to support him."
>> Quotable: "Democrats are all over the map when it comes to issues and ideology. In this Senate contest, though, the relatively progressive candidate seems to be attracting the most support," said Patrick Murray, director of the independent Monmouth University Polling Institute.
>> Republicans: "Media figure Dr. Mehmet Oz (20%), investment consultant David McCormick (16%), and political commentator Kathy Barnette (12%) are the only candidates in the 7-person primary field to register in double-digits – albeit barely – on the question of who is the strongest candidate to handle voters' top concerns. Both Oz (92%) and McCormick (80%) have widespread name recognition among Pennsylvania Republicans, but McCormick has a better net rating – 51% favorable and 15% unfavorable compared with 48% favorable and 37% unfavorable for Oz. About half the potential primary electorate has heard of Barnette (37% favorable and 5% unfavorable) and businessman Jeff Bartos (28% favorable and 6% unfavorable). Fewer than 4 in 10 know former ambassador Carla Sands (25% favorable and 4% unfavorable)."
>> A Different Direction: "About 4 in 10 Republican primary voters (42%) say they are unlikely to vote for Oz, with 42% saying the same about Sands and 39% about Bartos. Fewer voters rule out Barnette (33%) or McCormick (29%). The poll also asked about other candidates on the ballot for U.S. Senate, specifically George Bochetto (R), Sean Gale (R), and Alexandria Khalil (D). Fewer than 1 in 5 voters in their respective parties have heard of these candidates, with at least half being unlikely to support any of the three."
>> What They're Saying: "This is the kind of environment where a number of candidates could emerge as the nominee. Oz has the highest name recognition but also the highest negatives. If McCormick and Oz beat each other up, though, Barnette could realistically end up on top," said Murray."
The Monmouth University Poll was sponsored and conducted by the Monmouth University Polling Institute from April 20 to 25, 2022 with a probability-based random sample of Pennsylvania voters drawn from a list of registered voters who participated in at least one primary election since 2016. Interviews were conducted by a live telephone interviewer, in English, with 406 registered Democrats (113 landline and 293 cell phone) and 407 registered Republicans (133 landline and 274 cell phone). 
For results based on each party's sample, one can say with 95% confidence that the error attributable to sampling has a maximum margin of plus or minus 4.9 percentage points (unadjusted for sample design).
>> Read More