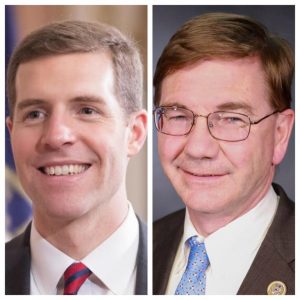 A blueprint for Democrats to take back the House?
The only race in the nation between two incumbents, Reps. Conor Lamb (D-Allegheny) and Keith Rothfus (R-Allegheny), is taking place in Pennsylvania's newly drawn 17th District . Polls today from two different outlets display good news for the Democrats.
In a Monmouth University Poll conducted among by telephone from July 19 to 22 with "all potential voters" shows Lamb leading Rothfus 51-39, with 9% undecided. The voters polled have participated in an election since 2010 or have newly registered to vote (a group that represents about 88% of all registered voters in the district). Today, Cook Political Report also changed the rating from Toss Up to Leans Democratic.  
Today, @CookPolitical will be changing our rating in #PA17's clash between Reps. Conor Lamb (D) & Keith Rothfus (R) from Toss Up to Lean Democratic.

— Dave Wasserman (@Redistrict) July 24, 2018
Monmouth conducted three different types of scenarios; "full voter sample", "standard midterm", and "Democratic surge". In all three scenarios, Lamb leads by double digits and is outside the margin of error.
The newly drawn 17th district encompasses parts from the previous 3rd, 12th, 14th, and 18th district. Slightly over 50% of the newly drawn district is from Rothfus's current 12th district, with voters split down the middle supporting Lamb 46-45 over their current congressman. Only about 20% of the electorate from Lamb's current 18th district will be represented in the new map, but those voters heavily favor Lamb by a 54-37 margin.
The role of two elected officials also seem to be playing a roll in this most recent data.
President Trump has a 44% approval rating, with 51% disapproving in this district. The more staggering statistic was that 43% of voters strongly disapprove of Trump, compared to just 28% who strongly approve.
Almost half of the voters polled, (48%) say that Trump's trade and tariff policies will hurt the economy in their district. 31% of voters polled believe these policies will help the local economy, with just 11% believing it will have no impact.
This polling seems rather relevant considering President Trump tweeted this morning defending his tariff policies stating, "tariffs are the greatest!"
Tariffs are the greatest! Either a country which has treated the United States unfairly on Trade negotiates a fair deal, or it gets hit with Tariffs. It's as simple as that – and everybody's talking! Remember, we are the "piggy bank" that's being robbed. All will be Great!

— Donald J. Trump (@realDonaldTrump) July 24, 2018
33% of voters polled believe that Rothfus has given Trump the right amount of support, while 24% believe that he has been too supportive of the president. Only 8% think Rothfus has not been supportive enough of Trump with 35% offering no opinion.
The other elected official whose role is having an impact on this race is House Democratic leader, Rep. Nancy Pelosi.
Similar to Rothfus's numbers with Trump, 35% say that Lamb has offered Pelosi the right amount of support compared to 21% believing he has been too supportive of her. 8% believe that Lamb has not been supportive enough with 36% offering no opinion. Lamb stated during his special election race earlier this year that he would not support Pelosi for Democratic leader.
Democrats do nearly have a 14 point voter registration advantage in the newly drawn district, although only 41% of those polled prefer to see them take control of Congress, slightly higher than seeing the GOP control Congress, 38%. 19% said it did not matter to them what party controlled Congress.
This particular race is being closely watched by many Democrats in moderate districts. McClatchy's Katie Glueck wrote a story last week titled, "This moderate Democrat's model is being copied where it matters — in Trump territory" detailing Democrats across the country trying to mirror Lamb's special election victory in March in a Republican leaning district.
METHODOLOGY: The Monmouth University Poll was sponsored and conducted by the Monmouth University Polling Institute from July 19 to July 22, 2018 with a random sample of 401 potential voters in Pennsylvania's 17th Congressional District, drawn from a list of registered voters who voted in at least one of the last four general or primary elections or have registered to vote since January 2016. This includes 205 contacted by a live interviewer on a landline telephone and 196 contacted by a live interviewer on a cell phone. Monmouth is responsible for all aspects of the survey design, data weighting and analysis. Final sample is weighted for region, party registration, age, gender, education and race based on state voter registration list and U.S. Census information. Data collection support provided by Braun Research (field) and L2 (voter sample). For results based on this sample, one can say with 95% confidence that the error attributable to sampling has a maximum margin of plus or minus 4.9 percentage points (unadjusted for sample design). Sampling error can be larger for sub-groups (see table below). In addition to sampling error, one should bear in mind that question wording and practical difficulties in conducting surveys can introduce error or bias into the findings of opinion polls.