Updated: More Town Hall Troubles for Barletta (With Video)
By Keegan Gibson, Managing Editor
Freshman Rep. Lou Barletta (R-Luzerne) had another rough town hall experience last night, during which police escorted a constituent out of the room.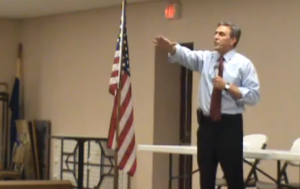 Speaking to a crowd in Espy, Columbia County, Barletta took heat over a number of issues, primarily his alleged vote to end Medicare, phrasing that Democrats have used to characterize the House vote over the GOP budget.
The budget would make the entire Medicare program more like a voucher system – similar to the way that Medicare Advantage works presently.
Shawn Kelly, a spokesman for Rep. Barletta, said the term "voucher" is misleading.
"The proposed budget does not turn Medicare into a voucher system," Kelly wrote. "Beginning in 2022, Medicare recipients will be able to choose an insurance plan from a list of guaranteed coverage options, receiving the same benefits as Members of Congress. Once a beneficiary chooses a plan, Medicare will make a premium-support payment to the insurance company, subsidizing the cost. The premium-support model will work like the Medicare prescription-drug benefit program operates today."
It's the second disruptive town hall for Barletta in as many weeks, and continues the recent story line of Republican congressman facing backlash back home.
An operative with the PA Democratic Party was there, and captured part of the exchange on video. The tense back-and-forth inspires sympathy for Rep. Barletta.
Peter Kendron of the Bloomsburg Press Enterprise has the story (paywall):
By the end of an hour of questions, one man had been escorted from the Espy firehall by police, an audience member called Barletta "a lying son of a b—-," and another called those questioning him "stupid.""
The tension started early, as Republican Barletta explained what he called a looming crisis. The federal government's debt is ballooning, and his party, he said, is trying to slow and eventually stop that growth. One of the main reasons the U.S. is spending more than it's taking in is "entitlements" like Medicare and Medicaid, Barletta said."
Barletta supports Congressman Paul Ryan's budget plan, which would change Medicare for those under 55. They would choose a private plan, and the government would pay an average of $15,000 toward it, Barletta said."
But a good portion of the crowd did not see the issue in Barletta's terms."
One man raised a sign asking: "Why did you vote to abolish Medicare?"
Speaking to Kendron, Barletta spokesman Shawn Kelly echoed previous comments that the disruptions were part of a coordinated effort by Democratic activists:
Barletta dismissed the criticism after the meeting as "politically motivated." He and communications director Shawn M. Kelly said Democratic organization MoveOn had sent emails to its supporters, asking them to "disrupt" Barletta's meetings.
Kelly further commented on last night's disruptions via email.
"As for the crowd, I've attached a PDF of the MoveOn.org e-mail – titled "Payback time" – that was sent out about Congressman Barletta's Columbia County forum. This is a clear case of astroturfing and disrupting the congressman's public forum," Kelly wrote. "That's why a political activist came up from Harrisburg to videotape the entire forum."
Indeed, a staffer from the PA Democratic Party was on hand to record the video above.
MoveOn.org has indeed sent emails out to its list serv in PA, for Rep. Barletta's town halls and others. However, there is no indication from the email forwarded by Barletta's office that there was any call for their members to be disruptive. To the contrary, the email told attendees:
"Be civil—we don't need to yell to make our point—but don't let Rep. Barletta avoid taking
responsibility for his vote."
This story has been updated with comments from Rep. Barletta's office, including details about an email from MoveOn.org.