http://www.youtube.com/watch?v=DfVFhBVteGQ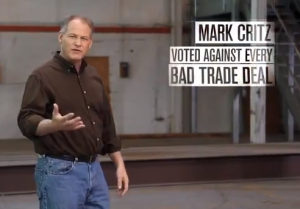 Mark Critz, trade warrior. That's the message that the Democrat from Johnstown continues to hammer in his second television ad of the general election.
"I'm Mark Critz, and we just need a chance to compete," says the Congressman, after imagining new factories in western Pa. "That's why I've voted against every bad trade deal. I'm against tax breaks for outsourcing, and it's time to stop China from cheating."
He tosses a zinger at his opponent, too, saying, "Keith Rothfus supports the trade deals costing us jobs and supports tax breaks for outsourcing."
China and trade issues have been at the forefront of the general election campaign so far, thanks in large part to a sustained push by Critz and allied Democratic groups (like the SEIU, AFSCME, etc).
Rothfus, a Republican attorney from Allegheny County, has recently gotten the message. Instead of emphasizing debt for debt's sake, his campaign has begun to cast spending supported by Critz and other Democrats as "sending billions to China."
PoliticsPA is seeking comment from his campaign about the ad.