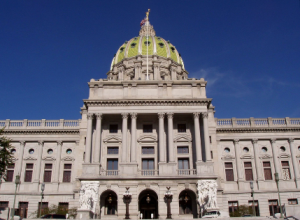 A new poll sheds lights on the Democratic gubernatorial primary, Corbett picks up the endorsement of three ex-Governors, and more. Good morning politicos, here's the Buzz.
Harper Poll: Schwartz 22%, McGinty 15% in PA-Gov: Allyson Schwartz has a 7 point lead in the Democratic primary for Governor, followed by Katie McGinty. 34% of respondents were undecided.
State Sen. Ferlo Won't Run in 2014: The Pittsburgh Democrat announced on the Senate floor Tuesday that he will not seek re-election in 2014. He was redistricted into a GOP-favoring seat.
Three former PA Governors Endorse Corbett in Hershey: Tuesday, three former Pennsylvania governors backed Gov. Tom Corbett for re-election.
Katie McGinty Releases Education Platform: The gubernatorial candidate promises to reverse Corbett's cuts and increase the state's share of education costs.
Harper Poll: Pennsylvanians Support Immigration Reform: In a survey measuring Americans' opinions of immigration reform, Harper Polling finds that a majority of Pennsylvanians support at least some degree of immigration reform.
Reader Poll: Who is your second favorite Gov Candidate?: We ask our readers who they would chose if their favorite Democratic gubernatorial candidate dropped out.
Reader Poll: Schwartz Will Raise Most Money: Our readers believe Rep. Allyson Schwartz will raise the most money in the Democratic gubernatorial primary.
PoliticsPA's Next Chapter: Meet Brittany Foster: As a longtime reader of and writer for PoliticsPA, I couldn't be more excited for next year. I'll be taking over for Keegan Gibson as the site's Managing Editor.
Legislative Elections Update:
SD-38: Jim Ferlo's decision not to seek re-election in 2014 means Sen. Randy Vulakovich (R-Allegheny) has no opponent at present. Post-redistricting, the seat contains the deep red North Hills. But it isn't a runaway for the GOP. Mitt Romney beat Barack Obama there by 6.4%, but Sen. Bob Casey won the district by 0.6% and Kathleen Kane won by 5.8%.
HD-164: State Rep. Margo Davidson (D-Delaware) has a primary challenger. Billy J. Smith, a criminal defense attorney, will run to the left of Davidson on abortion (she's pro-life) and school vouchers. Former state Rep. Bryan Lentz is backing Smith.
Statewide
State Impact: AP: Environmental impacts of ethanol may outweigh the benefits
Capitolwire: Ridge defends Corbett for tough decisions, long-term thinking
Capitolwire: State lawmakers hear pros and cons of expanded DNA testing
Capitolwire: Schwartz calls on House to pass transportation bill
Philadelphia
Inquirer: Fired O'Hara principal vows fight for her job
Inquirer: Bill on Phila. billboards advances
Inquirer: Coatesville Area board OKs buying $2.8M building
Daily News: Michael Nutter: Mayor of the world?
PhillyClout: Back from Israel, Nutter talks about effort to save Philly consulate
Philly.com: Wynn's out, and that's bad news for Stack
Philly.com: Gov. Christie, President Obama in Philly on same day this week
Philly.com: Report: Roughly half of older Philadelphians don't have internet access
SEPA
Pottstown Mercury: Feds reject formal bid for more study at Limerick nuke plant before relicensing
Bucks County Courier Times: Bipartisan duo calls for appointing – not electing – state judges
Pittsburgh
Tribune-Review: State Sen. Jim Ferlo won't seek re-election
Tribune-Review: Peduto pitches early retirement for 132 Pittsburgh city workers
Tribune-Review: Mayor presents $480 million budget to council; no tax hike
Tribune-Review: US Airways and American Airlines can proceed with merger
Post-Gazette: Pennsylvania, Pittsburgh natives ascend to top spots in Catholic bishops' hierarchy
Post-Gazette: Diocese of Pittsburgh Bishop David Zubik testifies in Affordable Care Act case
Post-Gazette: Preliminary Pittsburgh Public Schools budget would need tax increase to reduce deficit
Post-Gazette: Ravenstahl gives final budget address to Pittsburgh City Council
Post-Gazette: Peduto offering residents a seat at the table
Southwest
WTAJ: 2013 Elk Season Totals Released
NEPA
Times Leader: County to discuss diversity committee reactivation
Times Leader: Airline merger agreement aids PA's airport
Times-Tribune: Senate leader seeks gambling study
News Item: ACA blamed for insurance cost increase likely for SCA teachers next school year
Standard Speaker: Schuylkill County DA-elect outlines plans for term
Standard Speaker: Barletta names new district director
WNEP: Auditor General: Districts Mismanaged Millions
WNEP: Pressure is on Lawmakers to Pass Roads and Bridges Bill
AP:Orie Melvin seeks to stop sentencing 'adjustments'
AP: New Pa. budget challenge surfaces for Corbett
South Central
Patriot-News: Frustration builds as victims await nearly $180K restitution in midstate contractor fraud cases
Patriot-News: No property tax increase in Lemoyne Borough's proposed 2014 budget
Patriot-News: Harrisburg school budgets $24M+ off over four-year stretch, investigation shows
Patriot-News: See the pitches for how Dauphin County's gaming money will be used in 2014
Lebanon Daily News: Volunteers sought for tax program in Lebanon County
Lebanon Daily News: Mt. Gretna updated on construction projects
Lehigh Valley
Pennsylvania Ave: Obama to Philadelphia, Corbett to Washington
Morning Call: Pennsylvania hires DC lobbyists with state ties
Morning Call: Tea party defenders say most support its agenda
Morning Call: Recount decides Bangor mayor's election by 1 vote
Reading Eagle: Possibility of new pipeline has Brecknock Township neighbors upset
WFMZ: Sen. Bob Casey pushes for Reading to be part of White House's 'Strong Cities, Strong Communities' program
Express Times: Allentown Mayor Ed Pawlowski trails behind other governor candidates, poll says
North by Northwest
Centre Daily: Mayor-elect wants more involvement from community
Centre Daily: Bellefonte Borough Council votes 5-4 to approve demolition of Garman Theatre, Hotel Do De
Centre Daily: On Centre: Around Bellefonte Mayor-elect wants more involvement from community
Williamsport Sun Gazette: City Council tables ordinance on entertainment
Opinions
Rongione, Delco Daily Times: Harrisburg's inaction on transit funding puts citizens and state economy in peril
Morning Call: Tea party defenders say most support its agenda
Bucks County Courier Times: America's shame
Patriot-News: Here's how to make college affordable: Don Bell
Inquirer: Inquirer Editorial: All aboard transit bill
Daily News: DN Editorial: Slogan's Run
Times-Tribune: Regulate e-cigarettes like tobacco
Citizens' Voice: Challenge black lung investigation
Altoona Mirror: Stern legacy positive
Post-Gazette: Park perks: Allegheny County residents deserve the lower fees
Blogs
Keystone Politics: Val Arkoosh expands PA-13 Congressional Campaign Team
Keystone Politics: Tom Corbett says there are 200,000 new marcellus shale jobs. There are 17,414
Keystone Politics: #PAGov: Harper Poll Second to Find Katie McGinty moves into second place
Keystone Politics: McGinty releases "Strong Schools, Bright Futures" education plan
Keystone Politics: This Week in Fundraisers: Joe Pitts' $500 cheesesteak, hockey with Bob, and life insurers for Margolies
Keystone Politics: Housecleaning with Pittsburgh Mayor-Elect Peduto
Keystone Politics: Go away T.J. Rooney