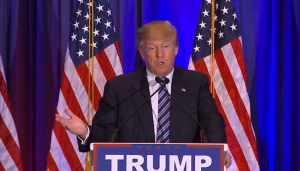 President Donald Trump is continuing to polarize Pennsylvanians according to the latest Muhlenberg College/Morning Call poll.  
Trump's approval rating stands at 39%, which is higher than both of Pennsylvania's U.S. Senators.  Senator Bob Casey has a 34% approval rating, while Senator Pat Toomey stands at 36%.  Trump has a higher disapproval rating than both Casey and Toomey though, with 54% disapproving of Trump.  
The majority of respondents felt that Trump is not handling his job.  52% said that Trump was doing a fair or poor job handling his job, while 42% said he was doing an excellent or good job.  
Only 30% of Pennsylvanians believe Trump is honest and trustworthy, but 40% believe that he keeps his promises.  
The majority, 56%, of respondents said that Trump is doing more to divide the country as President.  
Pennsylvanians are leaning towards a congressional investigation into any ties between the Trump campaign and Russia.  54% said that congress should investigate any ties, while 38% said they should not.  
Muhlenberg College/Morning Call's poll was a survey of 406 registered voters conducted by phone calls to both cell phones and land lines.  The margin of error is plus or minus 6%.