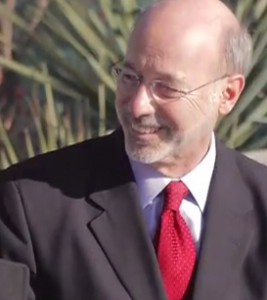 A poll commissioned by the Morning Call and executed by the Muhlenberg Polling Institute shows Wolf's lead remains wide in the last weeks of the primary.
He took 38%, Allyson Schwartz came in second with 13%, Rob McCord in third with 11% and Katie McGinty in fourth with 2%.
When undecided respondents were asked in which direction they were leaning, Wolf's lead expanded; Wolf won 42%, Schwartz took 16%, McCord at 14% and McGinty at 4%.
None of the competitors really gained an edge on Wolf in the last month as the last Franklin & Marshall poll showed Wolf with 33 percent of the vote to Schwartz's 7 percent, McCord's 6 percent and McGinty's 4 percent, with 46 percent of voters still undecided.
In that time, Schwartz began her ad campaign and both she and McCord began attacking Wolf in appearances and on television.
The Muhlenberg College poll of 417 likely Democratic voters has a margin of error of +/-5 percentage points.
There are fewer than three weeks until the gubernatorial primary, and certainly time for movement in these results as many political analysts point to the case of the 2007 Philadelphia mayoral race where the polling mere weeks out was drastically different than the result. For those who have forgotten, Michael Nutter beat out popular Democratic congressmen Chaka Fattah and Bob Brady, State Rep. Dwight Evans as well as businessman Tom Knox for the nomination.