By Sari Heidenreich, Contributing Writer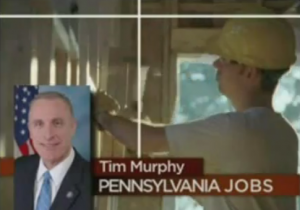 With the potential for a heated primary race in Pennsylvania's 18th district, the American Chemistry Council, a Washington-based industry trade and lobby group, is spending over $500,000 on a TV and radio ad buy in support of Congressman Tim Murphy.
The television spot, which is running in the Pittsburgh area, hails the Republican congressman as a job protector and creator, saying he supports small businesses, cuts to government regulation, and expanding domestic energy production.
Under the new Congressional maps released earlier this week, Murphy's district remained mostly unchanged, gaining several communities in Washington and Greene counties. These maps must still be approved by the PA House and signed by Gov. Tom Corbett but a PoliticsPA analysis has labeled Murphy's new district "potentially vulnerable" for Republicans under the right conditions – particularly if Murphy is not the nominee.
In the past, Democrats has struggled to find "the right candidate to run against Murphy" but, if they find someone this year, Murphy could have a race on his hands. Murphy is also being challenged in the primary by Evan Feinberg, a former aid to Senator's Tom Coburn (R-OK) and Rand Paul (R-KY). Speaking to The Hill earlier this week, the Senators hinted that they were considering endorsing Feinberg.
A GOP media consultant with ties to Feinberg said the American Chemistry Council (ACC) divided the December 14 to January 4 buy between broadcast and cable, spending $332,360 on the former and $96,050 on the latter. An additional $94,000 or so will air on the radio.
ACC Vice President of Communications Anne Kolton said "Congressman Murphy has been a strong supporter of efforts to encourage economic growth and job creation in the business of chemistry, which has a strong presence in Pennsylvania, and in other industries, as well."
Here is the ad:
And here's the full transcript:
"Partisan politics — gridlock in Washington keeps things from getting done. Fortunately South West Pennsylvania has Tim Murphy working to protect and create jobs. Congressman Murphy is a leader, standing up to support small businesses, cut government regulation, expand domestic energy production — to get America working again. Tim Murphy, in today's economy, jobs are his top priority. Call today and tell Tim Murphy 'Keep fighting for jobs and Pennsylvania's future.'"
H/t to Tim McNulty of Early Returns, who also caught wind of the buy and beat us to the punch.