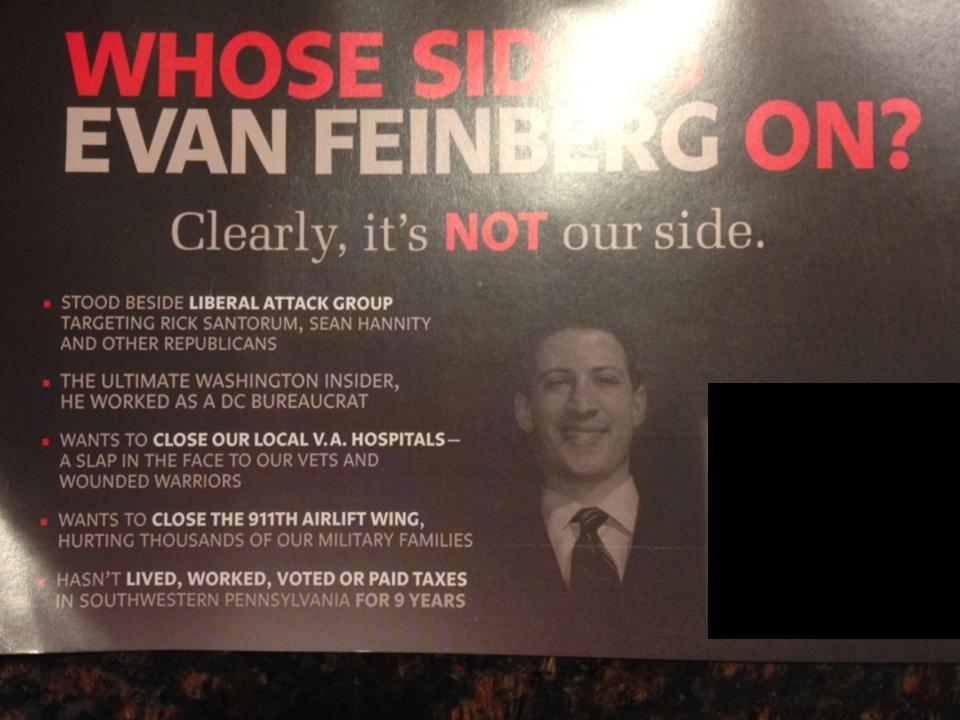 Rep. Tim Murphy and his campaign are confident of a win on Tuesday, but that doesn't mean they're giving challenger Evan Feinberg a free pass. In mailers and radio ads, they accuse Feinberg's stridently conservative views of jeopardizing local interests.
The charges include: Feinberg wants to shut down the 911th Airlift Wing and a V.A. hospital. You can see a second mailer here, courtesy of the PG's Early Returns.
"When I got into this race, I predicted he'd do anything to get re-elected.  My prediction has now come true. Murphy is desperately running demonstrably false negative ads and sending out completely fabricated information in the mail," Feinberg responded in an email to supporters.
"Mr. Feinberg and his out-of-state supporters have been running an extremely negative campaign full of half-truths and lies since Feinberg moved into the Congressman's district last December," said Murphy campaign manager James Genovese.
"We stand behind every point of fact highlighted by our campaign."
You can view even more lines of attack, with citations, at Murphy's campaign website. Feinberg has a detailed response to each point from the mailer at his website here – including to the 911 and VA hits.