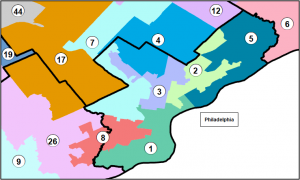 America's Future Fund spent $1.67 million to boost Mitt Romney in Pennsylvania in 2012. The group says it will work against state Senators who supported the transportation funding bill and Medicaid expansion.
The group is an Iowa-based 501(c)(4) organization based around, "a conservative and free market viewpoint." It has ties to the Koch brothers, well known financial supporters of conservative candidates and causes.
"Pennsylvania is a target-rich environment, unfortunately," said AFF president Nick Ryan. "We would rather see the free market promoted instead of publicly calling people out, but we can't stand by idly. If you vote to expand Obamacare, fail to implement a basic conservative idea like privatization of the liquor industry and you raise taxes, then why even pretend to be a conservative?"
Transportation funding and a bill to expand Medicaid under the Affordable Care Act, aka Obamacare, passed with wide bipartisan margins in the state Senate this year.
AFF's previous political activity typically has been related to federal campaigns. The announcement billed their Pa. efforts as a beta test that could be applied to other states.
The website Keystone Report first reported the fact that AFF was preparing a plan of action in Pa.
So far details are thin, but some specific planned activities include: polling, with an oversample in targeted districts; building a database of financial and political AFF supporters; and later buying digital advertising related to the project.
The group declined to specify the amount it plans to spend, "they expect to be high profile and figure prominently into the public policy conversation."
They have a willing partner in at least one Pa.-based conservative organization: the Citizens Alliance for Pennsylvania.
CAP has repeatedly criticized and even aired television ads against Republican state Senators it deems insufficiently conservative.
"We have been raising money nationally and reaching out to national conservative groups to join the fight to rid the Pennsylvania Republican party and it's politicians of it's left-wing union domination and we are thrilled to see our efforts are paying off," said one source close to CAP. "In fact, there will be a lot of resources targeting those RINOs who voted for the Rendell-Obama agenda over the past years and continue to do the bidding for the unions at expense of taxpayers."
But AFF efforts in the 2014 primary could backfire in the general election.
Democrats made historic inroads in the state Senate in 2012, gaining 3 seats. Republicans now hold a 27 to 23 majority, and several incumbents in southeast Pa. districts will face voters in 2014. Those Senators are largely responsible for the Senate's moderate bend, and the districts they represent have trended in favor of Democrats in recent years.
Redistricting and a retirement mean Senate Rs must compete for two open seats where strong Democratic candidates would stand a legitimate chance.
"It seems like a colossal waste of money to spend against Republicans," cautioned Ray Zaborney, a Republican consultant who works with the Senate GOP's campaign committee.
"I think potentially nominating a candidate who doesn't fit the district is a strategy that hasn't worked in Washington. I don't think it will work in Pennsylvania."
He said the state Senate has a record conservatives will support, including education reform measures and a balanced the budget and spending cuts over the past three years.