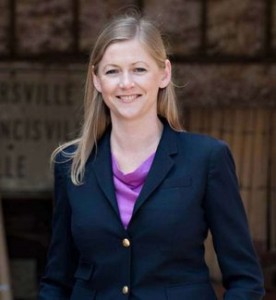 Shaughnessy Naughton feels that the scientific profession is not well represented in Congress and she's creating a new Political Action Committee to solve that problem.
314 PAC (named after pi) considers engineers and scientists the "backbone of our industrial and technology-based economy," who will diversify the political perspective and restore collaboration in government.
"I decided to run for Congress after seeing basic scientific research come under attack from big-money special interests," said Naughton, who will serve as 314 PAC's Executive Director. "After running for Congress, I know first-hand how difficult it can be for a candidate with a background in science to stay financially competitive in a tight race. 314 PAC will give voters an opportunity to recruit a new generation of people with scientific and technical experience to office."
The organization's website asserts that, "Scientific and technological discovery and development are driving forces that push societies and their economies to evolve, to the benefit of their citizens."
Nevertheless, very few STEM professionals hold public office and their research isn't included in political decisions. 314 PAC laments this fact as a result of "big-money special interests." The funds needed for basic scientific research, according to the PAC's founders, have been diminished in favor of "small government."
"Conservative elected officials, influenced by unlimited special interest campaign money, oppose expanding our scientific understanding of key issues, including medicine, public health, technology, and—the most pressing concern of our time—climate change," according to the organization's mission statement.
To combat this, 314 PAC's candidates will work to aid science or engineering professionals who are seeking a path to political office. They believe the STEM community's goals can change the political atmosphere. Working with their recruits, 314 PAC intends to provide the resources needed to create a "new generation" of democratic leaders who can "objectively observe and discern facts from opinions, and to make decisions dispassionately and based on evidence."
Among the group's board of advisors are PA-13 candidate Val Arkoosh, well-known climate scientist Michael Mann and Joe Trippi, the chief political consultant behind the 2004 Howard Dean presidential campaign.