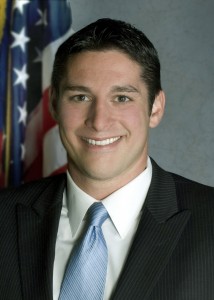 State Rep. Brandon Neuman (D-Washington) confirmed that he will seek two offices this year: re-election to his House seat in the 48th District and the Lieutenant Governor's office.
His competition for the Lieutenant Governor nomination is well known: Congressman Mark Critz, State Senator Mike Stack, Harrisburg City Councilman Brad Koplinski, Bradford County Commissioner Mark Smith and Brenda Alton.
But he recently got a challenger in his home district.
Republican North Strabane Township Supervisor Sonia Stopperich announced yesterday her candidacy for Pennsylvania's 48th legislative district seat.
Neuman just recently announced his campaign for Lieutenant Governor.
"There is precedence in the state's history for the lieutenant governor to ascend to the governorship," Neuman said. "The lieutenant governor must illustrate that they can work with the Senate and the House to move legislation and to work with the federal government in times of emergencies."
Neuman's recent financial report for lieutenant governor showed that the State Rep. raised over $90,530, with $10,352 transferred from other campaigns. He currently has $34,385 on hand in the account used for his Lt. Gov. bid.
Originally only running for re-election in his district, many of his donors may not have known which campaign they were funding.
A State Rep. running two separate campaigns is not without precedent.
In 2010, Scott Conklin (D-Centre) won the Democratic primary in the lieutenant governor's race and also ran for re-election in Pennsylvania's 77th legislative district. He received a challenger in his district and near the end of the race transferred $15,000 from his lieutenant governor account to his House account to defend his seat.