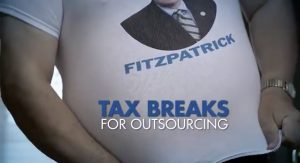 How do you beat an incumbent who's well known and well liked in his district? Stick to his votes. That's exactly the message of Democrat Kathy Boockvar's clever new television ad, which casts incumbent Rep. Mike Fitzpatrick as an ill-fitting shirt.
"Mike Fitzpatrick might have seemed like a good choice, but he just doesn't fit us anymore," says an announcer against comical music. "In Washington, Fitzpatrick gives tax breaks to companies that outsource jobs. Fitzpatrick fights to defund Planned Parenthood. And his votes on Medicare put Pennsylvania seniors at risk."
"Kathy Boockvar is a better fit. She'll fight for our jobs and our families."
Fitzpatrick served as Bucks County Commissioner from 1995 to 2006 and served one term in Congress in 2006. He won back his congressional seat in 2010, but has term limited himself and wouldn't seek re-election in 2016. He's also a cancer survivor.
With a profile like that, the "Fitzpatrick is a bad guy" approach probably won't move too many undecided voters. But Boockvar's "Fitzpatrick has made bad votes" approach might.
Boockvar is less well known in the moderate 8th district, where she works as an attorney. She ran for Register of Wills in 2007 and for Pa. Commonwealth Court in 2011, but lost Bucks County (which comprises the bulk of the congressional district) both times.
The race is considered Democrats' top pickup opportunity in Pa. in 2012.
"Mike Fitzpatrick has been ranked as one of the most independent Members of Congress," said Fitzpatrick Campaign Manager Faith Bender, "while Boockvar will support policies like the failed stimulus bill which sent millions of dollars overseas to outsource jobs in China."
She pointed to an article from factcheck.org which showed that $2.6 million in stimulus went to China.