National Democrats, take note: this is how you message Medicare.
It's among the best attack ads of the 2012 election so far. The latest spot from Democrat Larry Maggi features a line of seniors handing bundles of cash over to to the government while blasting Rep. Tim Murphy over his votes for the House GOP budget.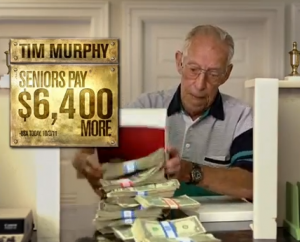 The line of attack is familiar; it's Democrats' favorite for 2012. But the music and visuals make the spot a work of political art.
The GOP budget, authored by Rep. Paul Ryan (R-WI), has been widely criticized by Dems who say that it would result higher out-of-pocket costs for Medicare beneficiaries. Supporters note that Medicare will be bankrupt within a few years unless serious reforms are made.
"Tim Murphy's budget plan: it would essentially end Medicare, making seniors pay $6,400 a year more for healthcare. Every one," says an announcer.
"But Tim Murphy's plan doesn't use that money to pay down to the deficit. it all goes to more tax breaks for the wealthy. $265,000 for the average millionaire, paid for by seniors."
The spot was produced by the Democratic media consulting firm Murphy Vogel Askew Riley. Its launch coincides with a new microsite by the Maggi campaign, http://www.timmurphysbudget.com/.
—
Update: Murphy's campaign said the claim is false, noting that the citation for the "essentially end Medicare" claim was disproven by FactCheck.org because it takes out of context a report by the Wall Street Journal.
"Liberal Larry Maggi is lying about Tim Murphy's record to deflect from his own failed record of higher taxes, pay raises, and mismanagement. Maggi's negative and misleading attacks are a sign of desperation and the voters in southwestern Pennsylvania deserve better," said campaign spokesman Tyler Foote. "Therefore, we call on Larry Maggi to voluntarily take down his false and misleading campaign commercial."
Democrats and Republicans have fought over the Medicare claim since the House GOP first passed a budget in 2011. Fact checkers generally agree that it is false to claim that the budget would "end Medicare". However, adding a small caveat – like saying the budget would end Medicare "as we know it" – makes the claim accurate enough to dodge the truth-meters. Maggi's problem in this instance was not so much his underlying accusation, but rather his misuse of the WSJ's phrasing.
—
Both Maggi, a Washington County Commissioner, and Murphy, a five-term Congressman, have been on the air for a week or so. The first ads in both cases were positive.
Maggi is currently listed as an "Emerging Race" by the Democratic Congressional Campaign Committee. In order to have the best shot – and the most access to national fundraising resources – he'll need a promotion to its top tier "Red to Blue" list. The DCCC will make its final cuts imminently.