President Obama is keeping his foot on the gas when it comes to courting Pennsylvania voters, as his campaign has released another ad in the Keystone state.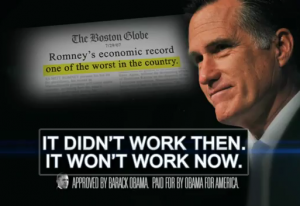 The new 60-second spot is called "Heard it Before." It focuses on Mitt Romney's track record as Governor of Massachusetts, displaying several graphics about his record including the state's $2.6 billion debt and the number of manufacturing jobs that were lost during Mr. Romney's administration. It ends with the announcer saying, "Romney economics: it didn't work then, and it won't work now."
"When Mitt Romney was Governor, Massachusetts lost 40,000 manufacturing jobs," the announcer charges. "And fell to forty-seventh in job creation. Fourth from the bottom. Instead of hiring workers from his own state, Romney outsourced call center jobs to India."
The ad is a departure by the Obama campaign from recent ads which strictly focused on Romney's record at Bain Capital, and corresponds with a general shift in messaging to Romney's policies as Governor.
It's an effort at distraction, the Romney camp says.
"Having abandoned 'Hope and Change,' the Obama campaign only 'Hopes To Change The Subject' from an abysmal jobs report. We're happy to compare the 4.7 percent unemployment rate Mitt Romney achieved in Massachusetts to President Obama's weak record any day," said Romney spokesperson Allie Brandenburger.
The Obama campaign has kept on the attack, despite the presence of pro-Obama super PACs willing to do the dirty work and get more negative against Romney.
The ad made its debut on Monday in Pennsylvania as well as eight other states. Other targets include prominent swing states such as Colorado, Florida, and Ohio, another sign that President Obama is prioritizing Pennsylvania as a "must win" in November – unlike, apparently, his Republican opponent.