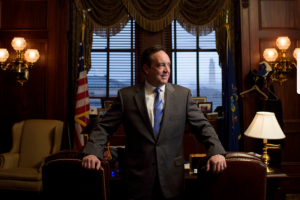 State Senator Jake Corman was selected as Majority Leader last month following Dominic Pileggi's seven year tenure. Yet that accomplishment may have been overshadowed by another victory for Corman.
The New York Times ran a piece today highlighting the recent settlement between the NCAA and Penn State that among other things, restored 111 victories to former head coach Joe Paterno.
"The NCAA has surrendered," Corman said. The Times pointed out that this statement 'became a bold front-page headline in The Centre Daily Times.'
Despite the Senator's boast, the NCAA believes it to actually have been a compromise.
Along with the wins, the NCAA also ceded on Corman's most pertinent demand, concerning the use of the $60 million fine imposed on the university. All of that money will now go towards programs which aim to treat and prevent child sexual abuse specifically in Pennsylvania.
Originally, the NCAA allotted only 25 percent of the fine to actually be used in Pennsylvania while the rest would be doled out to other states. The organization cited as reasoning that not all the victims in the Sandusky case were from Pennsylvania and so the money should be spread out.
"These were Pennsylvania dollars," said Corman, who was chairman of Pennsylvania's Senate Appropriations Committee at the time. "If they had to put up some sort of foundation to fight child abuse, it should be done in Pennsylvania."
The settlement (along with the downfall of Corman's partner ex-State Treasurer Rob McCord) has led to a surge in popularity for the Senate leader among PSU alumni who feel the school has been unfairly tarnished by the scandal.
The reaction caused one lawyer for a victim of Sandusky to criticize the "gloating" he felt was being exhibited by the alumni.
Regardless, the high-profile case has catapulted Corman at a time when he'll have more power than ever in Harrisburg.