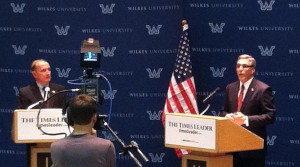 Wilkes-Barre — Rep. Lou Barletta and his Democratic counterpart Gene Stilp went head to head on the issues Monday night at the Stark Learning Center of Wilkes University.
Absent from this debate was a large pink pig and other outlandish props such as an inflatable podium. Stilp put them aside and debated the issues with Barletta ranging from medicare and social security, to the economy and foreign policy.
Aside his opening statement, which he used to ask for a moment of silence for military members and veterans, Stilp used conventional debate tactics.
"When you are in Washington DC, who do you listen to? The people or do you begin to take that big money from Washington DC," said Stilp. "I look for the measure of a man and what does it take to go Washington DC. What I'm looking to do is to go down there and work in a bipartisan fashion with the people on the other aisle. You cannot go to Washington DC and take money for big PACs and corporations."
Stilp is a well known good government activist who notably led the popular protest against the 2005 legislative pay raise. His calling card is a pink campaign bus fitted with giant ears and a curly tail, he says to signify government waste. However appealing his profile, Stilp has struggled to raise the kind of money he'll need to pose a serious threat to Barletta. He needed a game-changing moment during Monday's debate, but he didn't get one.
Stilp proceeded to list the big interests from which Barletta has received some of his campaign funding. However, Barletta didn't roll over after Stilp's banter. The incumbent Congressman was well prepared, well spoken, and well ready to do some pig roasting.
After Stilp questioned Barletta's plans on closing loopholes in the tax code, Barletta went on the offensive, accusing Stilp of dodging previous questions.
"I made a note that (Stilp) did not answer my question on what he would do to save Social Security. There wasn't an answer. That brings me to my second one, I didn't hear the second answer on what he would do to solve the budget. Number three, can you talk about the cover system and that language which is also inaccurate. And number four, we need to talk about the home mortgage deduction which is also inaccurate."
Barletta is a freshman, having defeated former Rep. Paul Kanjorski in 2010. He formerly served as Mayor of Hazleton.
While things got testy between the two candidates, the moderator, in very non-Lehrer fashion, kept them in check with the forum style of debate, which allowed only two minutes for each candidate to answer the specific questions.
Stilp and Barletta are scheduled to go at it again on Nov 1 in studio at WVIA.
Two notable attendees at the debate Monday night were PA-17 hopefuls Matt Cartwright and Laureen Cummings. The two are scheduled to duke it out in the same venue on Wednesday, Oct 10.