By Ali Carey, Contributing Writer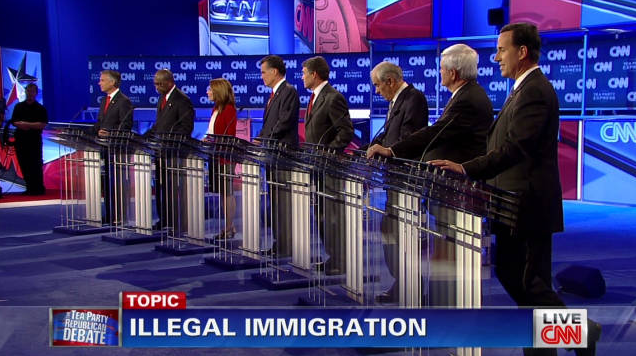 At last night's first-ever Tea Party Republican debate hosted by CNN in Tampa, FL, it was clear who the real front runners are. Former Senator Rick Santorum is not one of them.
Much of the debate consisted of Perry, Romney and Bachmann grilling each other on their positions on the economy, social security, immigration and health care.
In recent weeks there has been mobility in the approval ratings of GOP Presidential candidates.  According to national polls, Minnesota Rep. Michele Bachmann has lost ground while Texas Gov. Rick Perry has overtaken former Massachusetts Gov. Mitt Romney as the front runner.
Unfortunately for Santorum, he hasn't benefited from any of the other candidate's losses. Although when he did get a chance to speak, he didn't hold anything back.
Bachmann initiated the harsh criticism of Perry's executive order mandating that 11-year-old girls in the state of Texas receive a vaccination for cervical cancer, picking up on an issue that Santorum had previewed in recent weeks. He piled on during the debate.
"Unless Texas has a very progressive way of communicating diseases in their schools by way of their curricula, then there is no government purpose served for having little girls inoculated at the force and compulsion of the government.  This is government run amok.  It is bad policy and it should not have been done," said Santorum.
Perry countered that although he made a mistake in requiring young girls to receive a vaccination, the purpose was saving "protecting life."
"I have been one of the most pro-life representatives in the state of Texas, and all we were trying to do was to save young people's lives."
Huntsman even said that Perry's saying we can't secure the boarder of the US is "basically a treasonous comment."
Perry might of come under some harsh criticism from his fellow GOP candidates, but he left the debate fairly unscathed.
Friend of the site Colby Itkowitz noted another nuance during the debate – a possible swipe at former Sen. Arlen Specter:
"I won two elections [in Pennsylvania] without having to change my policies or my party to win," he said. (We're sure he would rather conservatives forget his key backing of the Senator during his tough 2004 primary).
Santorum's strongest moment came in a familiar back-and-forth with Texas Rep. Ron Paul over the War on Terror. He hammered the Congressman over a post on his website that Santorum alleged implied partial American blame for the September 11th attacks.
"We were not attacked because of our actions. We were attacked because we have a civilization that is antithetical to the civilization of the jihadists. And they want to kill us because of who we are and what we stand for, and what we stand for is American exceptionalism. We stand for freedom and opportunity for everyone around the world, and I am not ashamed to do that."
At that, Paul launched into an explanation of how the terrorists justified 9/11. He did a poor job articulating that he was recounting the terrorists' views rather than his own, and the suggestion that America has mistreated Palestinians earned him overwhelming boos (a rare occurrence for Paul, typically a crowd favorite).
Although, Santorum was asked significantly fewer questions compared to the front-runners, his answers demonstrated his strong positions, particularly on immigration and social security.
He showed his softer side, too. When asked what he would add to the White House if elected, he said he would add another bedroom and beds to make room for his seven children.
In the perfunctory press release immediately following the debate, Santorum's campaign declared him the winner (as did the campaign of every other candidate).
"Senator Santorum took Governor Perry and the rest of the GOP field head on and won. Whether it was Governor Perry's unconscionable mandate for HPV vaccines or his 'embrace' of an open border with Mexico, Senator Santorum took on the presumptive front-runner and exposed his flawed policies for what they are, and repudiated Congressman Paul for his reprehensible belief that America is to blame for 9/11," said Santorum National Communications Director Hogan Gidley.