🐪 Hump Day. Thanks for reading the PoliticsPA Playbook
PA Weather
🌤️ Girard | Becoming Sunny, 62
🌤️ State College | Partly Sunny, 58
🌤️ Coatesville | Mostly Sunny, 55
PA Sports
🏀 Sixers (8-2) | Indiana 126-132 | Wed vs. Boston
🏒 Penguins (8-6-0) | Columbus 5-3 | Thu vs. New Jersey
🏒 Flyers (7-7-1) | Wed vs. Carolina
What's Happening
The Senate will convene at 10 a.m., while the House convenes at 11 a.m.
What We're Hearing
Donna Petrecco is announcing her candidacy for the 140th Legislative District seat currently held by John Galloway.
Happy Birthday
Cake and candles for Rep. Joshua Siegel and Rep. MaryLouise Issacson.
Start Your Day Smart
Subscribe to the PoliticsPA Playbook. It's free and gives you all today's PA political headlines in an easy-to-read format. All by 8 AM.
Top Story
1. From a Connecticut Mansion To a Mispronounced Beer, Democrats Question David McCormick's PA Ties In Senate Campaign
"Unlike celebrity Dr. Mehmet Oz, David McCormick was born, raised, lived, and ran a business in Pennsylvania.
But Democrats who hammered Dr. Oz, a longtime New Jerseyan who was last year's Pennsylvania Republican Senate nominee, are nevertheless deploying a similar playbook against Mr. McCormick as he makes his second Senate run — this time for the seat held by three-term incumbent Sen. Bob Casey, D-Pa." (Pittsburgh Post-Gazette)
Related
GOP Candidate Says Trump Puts Allegiance To Him Above Winning Elections: New Book. "Jonathan Karl's new book, "Tired of Winning," tells the story of former U.S. Senate candidate Dave McCormick, who narrowly lost to Dr. Mehmet Oz in the Pennsylvania primary after Donald Trump endorsed the TV doc and attacked McCormick." (Raw Story)
Western PA Lawmakers Vote To Keep Government Open Just Days Before Threatened Shutdown. "The temporary spending bill, known as a continuing resolution, passed 336-95. It keeps government spending at 2023 levels." (Pittsburgh Post-Gazette)
What Happened To 'Woke'? How The Right's Rallying Cry Faded Away. "The decline of "wokeness" as a catch-all Republican message that spoke to intense fears of progressive ideas taking over institutions had been happening for a while." (Semafor)
Pennsylvania House OKs $1.8 Billion Pension Boost For Government And Public School Retirees. "Democrats who control the state House of Representatives on Tuesday advanced an estimated $1.8 billion boost to the pensions of Pennsylvania state government and public school retirees, while some Republicans said taxpayers will unfairly shoulder the financial burden." (AP)
PA House Passes Cost-Of-Living Adjustment For Pre-2001 State, School Retirees. "The state House of Representatives passed legislation Tuesday that would grant a long-sought increase in pension benefits to all state workers and public school teachers who retired before game-changing formula increases were made for future retirees in 2001 as part of a political deal." (PennLive)
State
2. Female PA Senators Want To Combat Sexual Harassment In Harrisburg
"A bipartisan group of female state senators unveiled a package of legislation Tuesday aimed at combating sexual harassment in Pennsylvania's capitol, following several high-profile allegations made against top officials this year, including a state representative and a top aide to the governor.
President Pro Tempore Kim Ward announced Tuesday that she and Sen. Maria Collett will soon introduce legislation to require outside investigations for sexual harassment complaints filed against someone working in a branch of state government." (Philadelphia Inquirer)
Related
Senate Takes Steps to Advance Bipartisan Sexual Harassment Legislation. "Senate President Pro Tempore Kim Ward and others have issued a co-sponsorship memo announcing the Senate's intent to advance a bipartisan legislative package consisting of two bills to increase measures when addressing matters of sexual harassment in the workplace." (PoliticsPA)
PA Senate Committee Has 'No Plans' To Move House-Approved Gun Safety Measures. "A Democratic-led state House committee on Tuesday advanced two more firearms safety bills despite fresh indications that gun reform remains largely intractable along partisan lines." (PennLive)
Democrats Prepare For A 'Bruising' Primary Battle To Challenge Incumbent U.S. Rep. Scott Perry. "Political analyst Terry Madonna said the Democrats in the race are assured a bruising primary battle in advance of the 2024 election." (York Dispatch)
Bresnahan Announces Campaign To Challenge Rep. Matt Cartwright In 8th District. "Rob Bresnahan, CEO of Kuharchik Construction, announced his campaign for the Republican Party nomination in the battleground U.S. House seat held by Rep. Matt Cartwright (D-Lackawanna)." (Penn Capital-Star)
Waldman Running for Congress Again. "Democrat Amanda Waldman has announced she wants a second chance to try to unseat U.S. Rep. Dan Meuser as representative of the 9th Congressional District." (CNHI News)
Around The Commonwealth
3. Failure To Move PA Primary From Passover May Disenfranchise Some Jewish Voters, Lawmaker Says
"Members of the Jewish community were not just marching in Washington, D.C. on Tuesday. Earlier that day, some were lobbying in Harrisburg.
There is growing unhappiness with the failure of the Legislature to move next year's primary from Passover. Next year's primary is scheduled for Tuesday, April 23, the first full day of Passover." (CBS Pittsburgh)
Related
In Its Last Acts, Central Bucks' GOP Board Votes To Pay $700,000 To Departing Superintendent, Passes Trans Athlete Policy. "The separation agreement for Abram Lucabaugh — who wasn't present during Tuesday's meeting — drew outrage from community members, who called it "stealing" and "corruption." (Philadelphia Inquirer)
Head of PA School Administrators' Organization Says Teacher Shortages Can Be Fixed, But Will Take Time. "Sherri Smith, the executive director of the Pennsylvania Association of School Administrators, said schools, communities and parents are working through the issues the disruptions from the pandemic brought. But, she said, addressing ongoing teacher shortages could take years." (WPSU)
Progressive Pastor Flips Dauphin County Board Blue For First Time In 100 Years After Running Against Prison Deaths. "With gauged ears and a sleeve of tattoos running down his left arm, Justin Douglas looks like he belongs in the middle of the crowd at a punk show rather than serving as a pastor at a local congregation or an incoming county commissioner." (The Keystone)
Editorial
4. What They're Saying
1 Thing
5. Inflation Fever Breaking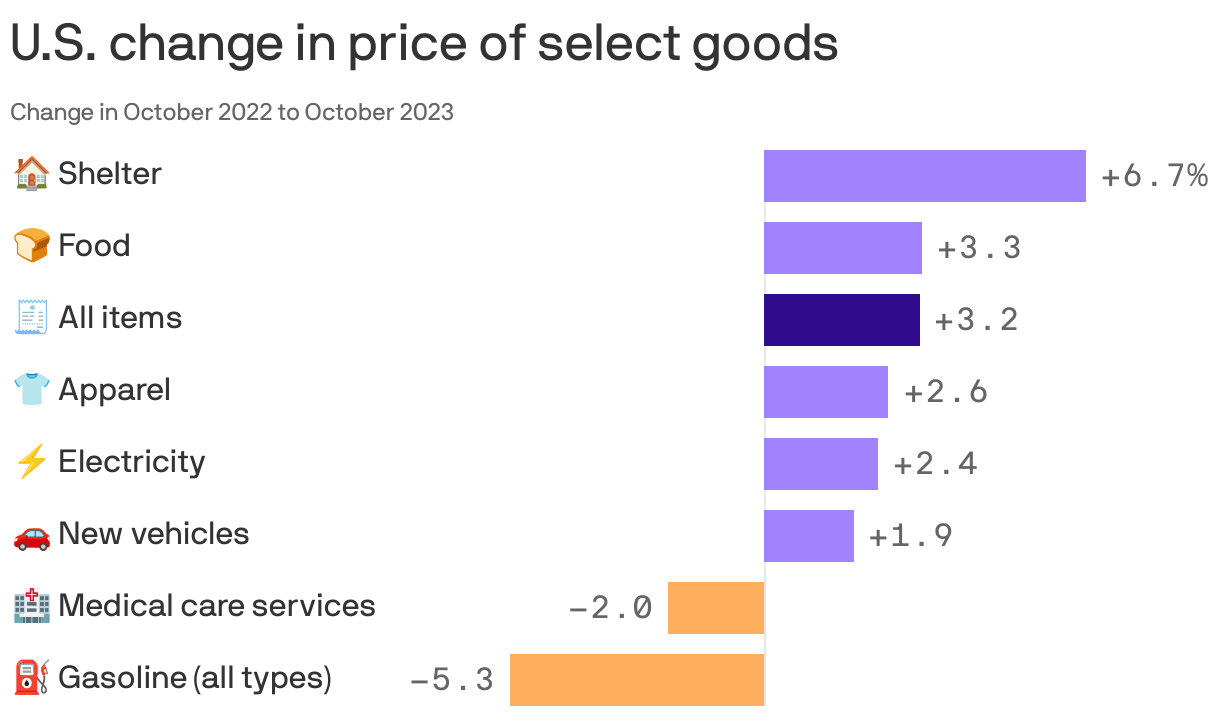 October's Consumer Price Index showed further progress on inflation after a brutal year (ab0ve).
"The inflation fever has broken in the United States," Bill Adams, chief economist for Comerica Bank, wrote in a note.
Thanks for starting your morning with us.
Please invite your friends
to subscribe to the PoliticsPA Playbook