http://youtu.be/281AAJtXv9s
The NRCC released their final ad for PA-12 Monday, knocking Congressman Mark Critz for flip flopping on campaign contributions and standing up to his party.
The ad, titled "Not For Us," whacks Critz with the NRCC's main message of the 2012 election: Critz has flip-flopped on major issues. This time, they've sounded off on special interest contributions and a high party-line voting record.
"Critz says he's taking on special interests, but the records show that Critz has done something else," the ad says. "He's taken nearly $2 million from them. Critz also says 'You can see on my website how I'm fighting my own party.' Oh yeah? Critz voted with Nancy Pelosi 95 percent of the time."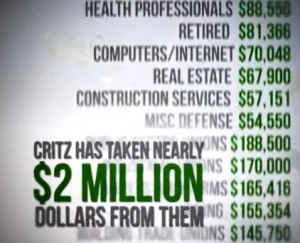 Critz spokesperson Mike Mikus blasted the ad, calling it yet another hypocritical attack from GOP Challenger Keith Rothfus' allies.
"This is yet another hypocritical, false attack from Keith Rothfus and his allies," said Mikus. "The people of Western Pennsylvania know that Mark Critz is one of the most independent members in either party."
"He has taken on his own party – even President Obama's EPA – to protect Western Pennsylvania jobs. Meanwhile, outside special interest groups are spending millions of dollars attacking Mark Critz to prop up Keith Rothfus, including FreedomWorks, who attacked Mark for opposing turning Social Security over to Wall Street. This same group then had to scrub its website when the attack boomeranged on Rothfus, who still refuses to explain why he wants to privatize Social Security and put our seniors' retirement at risk."
With just one week to go until election day, Pennsylvania's most competitive congressional race could not be any tighter. Even though this is the NRCC's last ad, it certainly won't be the last ad seen in PA-12. Surrogates for both Rothfus and Critz have cranked ads out regularly, and the ad blitz has shown no signs of slowing down.
UPDATE
The Rothfus Campaign also released an ad today (watch below), going direct to camera and positive with his mother and daughter.
In the ad, titled "Alice & Alice," Rothfus stresses the importance of protecting his daughter, Alice and her generation from inheriting massive debt, while also protecting Medicare for his mother, Alice and all seniors.
"We need to fix America," says Rothfus in the ad. "We need to balance the budget so Alice and all of our kids aren't crushed by the debt. We need to save Medicare, for my mom and all seniors, and stop Obamacare's $700 billion cut."