The NRCC has rolled out a new mid-sized TV ad buy seeking to tie Rep. Mark Critz (D-Cambria) to Obamacare and the program's "gutting" of Medicare.
The independent expenditure ad buy features Critz paired up with images of Washington insiders.
"It' simple – you're either on the side of Washington bureaucrats or Pennsylvania families," says the female voiceover.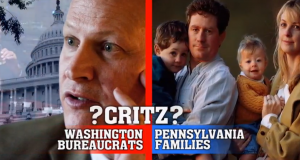 "Mark Critz? It's clear which side he's on."
The images contrast against those of a small business owner struggling to balance her budget and a senior citizen worrying about Medicare.
The ad continues with images of Critz alongside the Capitol and footage of men in suits clinking their glasses together in a bar.
"Critz consistently voted to keep Obamacare, which could kill thousands of Pennsylvania jobs. It's another tax on small businesses and it cuts Medicare by $700 billion," the voiceover says.
"Mark Critz – says one thing, does another. He's not on our side."
NRCC Communications Director Paul Lindsay said the ad is meant to expose Critz for his record of voting against his constituents' wishes.
"Threatening Pennsylvania jobs and gutting over $700 billion from Medicare to pay for Obamacare is not what voters thought they were getting with Critz," he said.
"It's become clear that he is on the side of Washington bureaucrats and not Pennsylvania families."
Medicare "cuts" is the term used by Republicans when discussing Medicare under Obamacare, but the cuts are really reductions in the program's growth which will be imposed over a 10-year period and not a reduction in current services.
Critz campaign spokesperson Mike Mikus said that the ad isn't true, and that Critz's opposition to Obamacare has been clear from the beginning.
"Keith Rothfus and his allies aren't telling the truth. Mark Critz opposed the Obama healthcare bill and the $700 billion dollars in Medicare cuts. He even voted to repeal the individual mandate," Mikus said. "The real difference is Keith Rothfus supports privatizing Medicare to pay for more tax cuts for millionaires and supports unfair trade deals that ship jobs overseas, costing Pennsylvanians thousands of jobs."
While PoliticsPA seeks to confirm the size and scope of the buy, an NRCC source said the ads are running "full blast."
It seems that the ad is sizeable and will make a splash, but in the Pittsburgh media market only for now.