http://youtu.be/RKX2TQ8hqHM
The National Republican Congressional Committee has released a new ad today, sticking with its theme of the 2012 election and bashing Congressman Mark Critz for flip flopping on healthcare.
The ad, titled "Our Turn," uses three clips of Critz to make its case. One clip of Critz saying he opposed the health care law in his last campaign, and two clips with him saying that he supports and has voted for the law.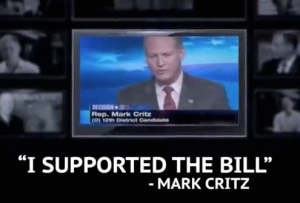 "To keep track of all the times Mark Critz contradicts himself, you'd have to have a full time surveillance team," the ad says.
Critz spokesman Mike Mikus rejected the NRCC's claim, and sought to thread the needle on Obamacare.
"Keith Rothfus and his allies will do whatever it takes to distract from his support for ending Medicare's guaranteed benefit and costing our seniors thousands of dollars more for their health care," he said.
"Mark Critz opposed the health care bill when it passed, voted to eliminate the individual mandate and the medical device tax, but he doesn't think people with pre-existing conditions should be denied health insurance or that women should be forced to pay more than men for the same health insurance. Perhaps Keith Rothfus thinks that is OK, but Mark Critz does not."